Schumer Moves Fast to Succeed Reid After Decade Waiting in the Wings
Richard Rubin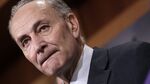 Senator Chuck Schumer is emerging as the likely successor to Harry Reid as the chamber's Democratic leader after 2016, maneuvering quickly to lock down support after a decade of positioning himself for this promotion.
The New York Democrat, already an architect of the party's political, fund-raising and media operations, would add the institutional power that belongs to top Senate leaders. The move from third-ranking Senate Democrat to the No. 1 post as minority leader would consolidate his power.
Schumer spent most of Friday making calls to Democratic senators and has commitments from an overwhelming majority, said a person close to Schumer who requested anonymity to discuss the process.
"I thank Harry Reid for his friendship, counsel and steadfast leadership of our caucus over the last 10 years, and I look forward to continuing to work right alongside him for the remainder of this Congress," Schumer said in a statement late Friday. "I am honored and humbled to have the support of so many of my colleagues and look forward to our Senate Democratic Caucus continuing to fight for the middle class."
Schumer found his path cleared after an endorsement from Reid and a decision by the chamber's second-ranking Democrat, Richard Durbin of Illinois, not to seek the top leadership job.
Those moves, all coming within hours of Reid's decision to retire, give Schumer a huge lead over any other contenders in a contest that will turn on relationships forged during campaigns and solidified in the Senate's gym and cloakroom.
Lyndon Johnson
Their means of ascent are different, but an analogy to Schumer's rise is Lyndon Johnson, whose dominance in Democratic fund-raising circles and attention to the details of his colleagues' lives gave him tremendous leverage as Senate majority leader.
The power of leadership has been diluted since then, but Schumer brings comparable facility with fund-raising and a mastery of the important tools of modern media. He's been the highest-profile political player for the last decade in the major media centers of New York and Washington. That is, he plays to the cameras as well as he works donors and fellow senators.
Reid's retirement is an opportunity Schumer has been waiting for. He would become the first New Yorker to lead a Senate party caucus, and his ties to the state's financial industry would become even more important and be more closely watched.
The Democrats have a solid chance to take back the Senate in the 2016 election. Schumer could shepherd the agenda laid out by the party's presidential frontrunner, Hillary Clinton, a longtime ally who also represented New York in the Senate, from 2001 to 2009.
Wall Street
His links to Wall Street also could hurt him. There's still a chance that he could end up falling in an intraparty fight to a younger or more populist rival from the wing led by Senator Elizabeth Warren of Massachusetts.
Reid said in a Washington Post interview Friday that he would back Schumer. Durbin told Schumer during the Senate budget debate that he wouldn't seek Reid's job and would support the New Yorker's bid, said a Durbin aide who didn't want to be identified.
Schumer's close ties to Senate Democrats who were elected when he ran the party's campaign arm give him an edge against any other possible contenders, including Patty Murray of Washington, who now ranks below Schumer.
"Schumer is a legislator, a winner and a base-builder. Rather than boxing gloves, his most powerful weapon is the video camera," said New York-based pollster John Zogby. He said Schumer "can do business" with Republicans, but as a New Yorker there's no reward for giving in to them. "He is a liberal in a liberal state," Zogby said.
Political Message
Schumer, 64, helped lead the Democrats' fund-raising efforts when they won the Senate in the 2006 election, and he has been shaping their political message and policy platforms since.
He's currently the third-ranking Democrat in the Senate, behind Reid of Nevada and Durbin.
Democrats lost the Senate in the 2014 election, and Republicans now have a 54-46 majority.
That could change quickly.
Next year, Republicans must defend 24 Senate seats compared with 10 for Democrats, a reversal from the past two elections when significantly more Senate Democrats were on the ballot. Republicans must defend seats in states such as Wisconsin, Florida, Ohio and Pennsylvania that President Barack Obama won in 2008 and 2012.
Tossup Race
Reid's retirement sends the opposite signal -- that Democrats can't win back the Senate in 2016, said Ward Baker, executive director of Senate Republicans' campaign committee. The Cook Political Report called the Nevada race a tossup and said Republicans have a chance to win in a state where they could never beat Reid.
"Not only does Reid instantly become irrelevant and a lame duck, his retirement signals that there is no hope for the Democrats to regain control of the Senate," Baker said in a statement.
Obama has no plans to make an endorsement for the next Senate Democratic leader, White House press secretary Josh Earnest said at a briefing Friday.
For Schumer, the chance to regain control of the Senate becomes even more important. As majority leader, he would control the floor schedule and become the lead negotiator with the White House and House of Representatives. Even as minority leader, he would retain the power to block Republicans from achieving their goals.
Exterminator's Son
Schumer, the son of an exterminator, is a Brooklyn native and Harvard Law School graduate who was first elected to Congress in 1980. In 1998, he beat incumbent Republican Al D'Amato for a Senate seat after topping Geraldine Ferraro in a primary. He won his last race with 66 percent of the vote and is up for re-election next year.
He's known for his support of gun control, tax increases on high-income households and environmental protection. He was part of a bipartisan group in 2013 that reached a deal to revamp the country's immigration system.
Schumer would offer little tactical departure from Reid, since the two have been working together for so long. His media presence -- the standard joke is that the most dangerous place in Washington is between Schumer and a TV camera -- would be a contrast with Reid, who tended to mumble and launch off-script barbs at opponents.
Different Cat
Schumer "is a different kind of cat," said Ross Baker, a political scientist at Rutgers University in New Brunswick, New Jersey.
"He sucks a lot of oxygen out of the caucus with his distinctive eloquence," he said. "But he is an astute tactician and a prodigious fund-raiser, which is no small advantage for his colleagues who are up for re-election."
Schumer, first elected to public office at age 23, is a man who loves his job, said Jim Kessler, a former aide.
"He lives a very modest lifestyle," Kessler said. "A carton of takeout Chinese food, a bowl of cereal and a good memo and you're talking about a perfect evening for the guy."
Democrats weighing whether to support Schumer will look closely at his ties to Wall Street and the New York-based financial industry, particularly amid the rise of Warren, who was brought into the Democrats' leadership team this year.
Neil Sroka, a spokesman for Democracy for America, said the next Senate Democratic leader should be someone from the Warren wing of the party or sympathetic with it.
'Warren Wing'
"What's clear is the Warren wing of the party is rising, and the Wall Street wing of the party is dying," Sroka, whose group is urging Warren to seek the party's presidential nomination, said in a phone interview. "A lot of people are rightly skeptical of Senator Schumer because of his closeness with Wall Street."
Matt Cournoyer, a Warren spokesman, said in a phone interview that she's not interested in competing for the Senate Democratic leader position.
No single industry will determine who becomes the Democrats' leader, said Israel Klein, a principal at the Podesta Group lobbying firm and a former communications director for Schumer.
Securities Industry
"Senator Schumer has proven himself to be a tireless advocate for New York state and middle-class families, and a pragmatic policy maker," Klein said. "These qualities are not incompatible. To the contrary, they will make him an excellent Senate Democratic leader."
According to the latest totals compiled by the Center for Responsive Politics, the securities and investment industry has been Schumer's top contributor from 2009 through December 2014.
Securities and investment-related sources account for more than $4.1 million of the more than $28 million collected by Schumer's individual campaign committee and leadership political action committee combined.
By comparison, Durbin's top sources for contributions are lawyers and law firms, followed by real estate-related industries, according to the site. The securities and investment-related sources rank third on his list, having delivered a total of $346,056 to his individual committee and PAC since 2009.
Schumer voted for the Dodd-Frank law in 2010 and is squarely on the side of reformers, said Kessler, a senior vice president at Third Way, which describes itself as a centrist think tank.
"When Wall Street comes in conflict with Main Street, I tend to side with Main Street," Schumer said in 2009. "When Wall Street comes in conflict with other entities -- large entities, overseas or elsewhere -- I try to help New York, at least when I think they're right."
Before it's here, it's on the Bloomberg Terminal.
LEARN MORE