Rand Paul and the Koch Brothers Are Having a Nixon-in-China Moment
Some are trusting Republicans more than Democrats when it comes to undoing bad criminal justice law.
by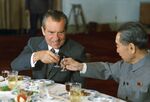 The question had to be asked, and Van Jones was there to ask it: How would the Koch brothers get rich from prison reform? How would bipartisan criminal justice reform – the cause that had brought Jones together with dozens of organizers for an all-day Washington summit – add to the bottom line?
"Are they gonna make a billion dollars off of this?" asked Jones of Mark Holden, the general counsel of Koch Industries.
"Or are they going to invest a billion dollars?" asked Neera Tanden, the president of the Center for American Progress.
Holden was not being ambushed. This was a conversation between people who'd been working together for months, designed to allay the fears of Jones's and Tanden's allies on the left. The news that Charles Koch would invest in criminal justice reform was broken by his hometown paper and explained in a Politico column. The news that the Kochs would collaborate with CAP in the new Coalition for Public Safety was reported on the front page of the New York Times. And plenty of people in the audience were still nervous about the Kochs' political influence.
Holden decided to be wry.
"There are four Koch brothers," said Holden. "I work for two of them. I can't speak for the others."
The audience, a mixture of political activists, reformed ex-cons, authors and academics, laughed and applauded. Later, former Speaker of the House Newt Gingrich shared the stage with Jones as former prisoners talked about how they'd re-made their lives with education and second chances. Jones even apologized on behalf of the Republicans who had sent video messages in lieu of personal appearances: "Because the Democrats don't run this town, they had the time to come."
Coverage of the bipartisan reform movement has followed the same narrative for months, of "sworn enemies" singing around the campfire. Organizers have played that up, booking right/left allies together to promote the project, and making sure that the media meets the Republicans who are un-doing decades of harsh penalties that their voters asked for in the first place. It wouldn't be news if Democrats did this. It's news when the other party does.
In the last few months, that narrative has shifted. The Republicans who control Congress and most of the states are taking a larger role in the reform push. Kentucky Senator Rand Paul, who has co-sponsored a series of reform bills, is giving talks to black audiences that draw scores of reporters.
More than the possibly pernicious influence of the Koch brothers, some Democrats worry that their thunder is being stolen. "One of the great ironies for me, having spent all this time on criminal justice reform, is how the Democrats have basically ceded this incredibly important issue to the Republicans," former Virginia Senator Jim Webb told Vox's Ezra Klein this month. "Rand Paul's the guy who's been running with it."
A spokesman for Webb didn't respond to a question from Bloomberg, and he did not appear at the bipartisan summit. He was not invited to speak. Had he been, he'd have proven himself right. More than a few attendees said that they'd started to trust the GOP over the Democrats when it came to undoing bad law.
"My job has kind of changed my view on politics," said Brian McKinney, who served a jail sentence for marijuana possession. He now works at Pigeonly, a start-up that makes it easier and cheaper for inmates to communicate with the world outside. "In my personal experience, Republicans are better at dealing with this than Democrats. We don't have any problems in Texas. We have problems in California. We don't have any problems in Florida. When I saw that Koch Industries was getting involved I said: They're going to do more to affect positive change over the next 20 years than anybody."
Rand Paul wasn't at the conference, either – spokesman Doug Stafford explained that he was tied up with Senate budget votes – but Republicans got a good hearing. Virginia Congressman Bob Goodlatte, who chairs the House Judiciary Committee, delivered a video message promising "to look at what happens in our prisons and upon release to stop the endless cycle of criminality." Utah Senator Mike Lee delivered a video recap of his work on prison reform, which he'd met with the White House to talk over.
In his own remarks, Attorney General Eric Holder made a joking reference to the Republican intransigence that was keeping him in office, then shared the results of a Bureau of Justice Assistance report that promoted Republican-run Georgia as a model for reform, with prison admissions falling eight percent in three years. Later, Georgia Governor Nathan Deal teared up as he discussed the drama of watching people graduate from drug rehab programs, and how he'd signed an executive order preventing anyone who applied for state jobs from having to declare whether they'd been convicted of a crime.
"I disagree with him about 90 percent of the time," said Raphael Warnock, senior pastor of Atlanta's Ebenezer Baptist Church, of Deal. "I got arrested in his office last year, protesting, asking him to expand Medicaid. But I went over to him the other day to thank him for his leadership on this issue. You can tell it's meaningful to him."
How meaningful was it to Democrats? Many of them trekked in for the conference, including New Jersey Senator Cory Booker and Connecticut Senator Chris Murphy. But former NAACP president Ben Jealous, who is considering a Senate bid in Maryland, said that moderate Democrats remained too scared of their shadows to become reform leaders.
"Go back and look at Hillary Clinton in 2008," said Jealous. "Every other Democrat running for president was saying, look, not only do we need to cut the disparity for crack/cocaine sentencing, we need to have retroactivity. It's not fair for someone who sold two rocks to do more time than someone who sold half a kilo of powder. She was the only one who said no to retroactivity."
As of March 26, there was no Hillary Clinton campaign, and no one to say what her current policy was on reform. That might worry Democrats. "People understand the price of having cowardly friends," said Jealous. "There's a quote from Martin Luther King, in the Letter from Birmingham Jail, about how his biggest problem wasn't the bigots. It was the moderates. And we're back to that."
The less-than-moderate Republicans would be happy to lead. Gingrich insisted that "every 2016 Republican candidate, and the Democratic nominee" would come around to the reform position. He saw criminal justice reform as akin to welfare reform – impossible, until it was inevitable. And Gingrich didn't think that Bill Clinton's tough-on-crime triangulation, or Hillary Clinton's feints at the same policies, would inform a 2016 campaign.
"The Clintons are very practical people," he said. "They will get – and Bill will get instantly – why this makes sense. That's sort of a nice competition. Instead of seeing which of you can be the party of obstruction, you're competing to be the party of reform."
If there's a competition, Democrats might be a lap behind. In the panel with Holden and Tanden, Jones asked if the Republicans had abandoned an issue that used to win elections for them – "they Willie-Horton'ed us" – for one that would win the elections of the future. Why should Democrats team up with them, and share credit?
"Aren't you just throwing the Democratic Party down the stairs?" Jones asked.
"Politics is secondary to making positive change for people," said Tanden.
Before it's here, it's on the Bloomberg Terminal.
LEARN MORE