Democrats May Find it Easier to Defend Reid's Open Seat
Bigger turnout in presidential election years favors the Democratic candidate, whoever that might be.
by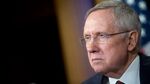 Senate Minority Leader Harry Reid of Nevada announced Friday morning that he won't seek re-election when his term expires in 2016. In a YouTube video, Reid explained his decision.  


Reid's decision, like the 2010 retirement of Connecticut Senator Chris Dodd, may create one of the rare cases in which an open seat is easier for a party to defend than the incumbent. Nevada has been swinging strongly Democratic in presidential years, as the party's machinery turns out Hispanic votes and wins by landslide margins in Clark County, which includes Las Vegas. Barack Obama won the state twice; even John Kerry had strongly competed for it, losing by only 2.6 percentage points. The Democratic turnout in 2012 was strong enough to nearly defeat appointed Senator Dean Heller, even after his Democratic opponent was dogged by a congressional ethics probe. (Like most such probes, it made headlines then sputtered out.)
A presidential year, in other words, can't be worse than 2014. That year, as Democrats basically punted on a challenge to popular Governor Brian Sandoval, their turnout collapsed. Secretary of State Ross Miller lost what should have been an easy election for attorney general over political dynast Adam Laxat; Congressman Steve Horsford was taken out by Republican Cresent Hardy, who won just 63,435 votes. Two years earlier, Horsford's Republican opponent had lost with 101,261 votes. 
Democrats entered the 2016 cycle planning to take back Nevada, with Hillary Clinton atop the ballot, far more likely to get out the vote than no-name gubernatorial nominee who came second in his primary to "None of These Candidates."
Reid's preferred successor is rumored to be Catherine Cortez Masto, the attorney general who'd been term-limited out of office in 2014. It's exceedingly unlikely that Reid, who never lost his grip on his political operation, would have made this announcement without some assurance that Masto or another strong Democrat would run to replace him.
Yet while Reid remained in office, the parties were stuck in a prisoner's dilemma. On the one hand, the Senate Democratic leader was a master fundraiser and dealer, who'd kept strong challengers out of his 2010 race, and prevented some big Republican money from spilling into Nevada. The state's most popular Republicans, like Sandoval, repeatedly said they would not challenge Reid in 2016, even though he'd barely survived a 2010 re-election against a fringe candidate, even though his personal poll numbers were weak. An open seat race against a Democrat who'd start with no war chest is far more attractive to Republicans. But they know what Reid knows: Any Republican Senate candidate (except Sandoval) starts off wondering how he can run five, six, seven points ahead of his presidential nominee for 2016.
Before it's here, it's on the Bloomberg Terminal.
LEARN MORE