Elizabeth Warren Launches Counteroffensive Against Citigroup
The Democratic senator sends a fundraising request asking for help to counteract a potential boycott from banks.
by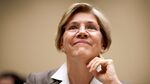 Just hours after Reuters reported that Citigroup and other banks are debating whether to halt some of their own donations, Senator Elizabeth Warren is calling on her followers to make up the difference.
Citing "concerns that Senate Democrats could give Warren and lawmakers who share her views more power," Citigroup has already decided for now to withhold donations to the Democratic Senatorial Campaign Committee, sources inside the bank told Reuters. The maximum that bank could donate under campaign finance rules is $15,000 per year. 
"Citi's Political Action Committee contributes to candidates and parties across the political spectrum that share our desire for pro-business policies that promote economic growth," Molly Millerwise Meiners, Citi's Director of Corporate Communications said in a statement. Citigroup confirmed that it has not donated to the DSCC yet.
As for other banks, Goldman Sachs has already sent its 2015 donations, while Bank of America and JP Morgan are also considering their next steps.
In December, Warren gave a long speech criticizing the close ties between Citigroup and Congress. "There's a lot of talk coming from Citigroup about how the Dodd-Frank Act isn't perfect," Warren said. "So let me say this to anyone who is listening at Citi: I agree with you. Dodd-Frank isn't perfect. It should have broken you into pieces."
The move is more symbolic than financial, and has already spurred a counteroffensive from Warren. In a fundraising request (titled "Wall Street isn't happy with us,") Warren accused the banks of wanting Washington to puts its needs before Americans and "get a little public fanny-kissing for their money too." The pitch argues that 2016 Democratic Senate candidates could lose $30,000 each, and asks for for help raising matching funds. 
"The big banks have issued a threat, and it's up to us to fight back," Warren wrote.
If Citigroup, JP Morgan, Goldman Sachs, and Bank of America wanted to give Warren—a skilled fundraiser—a chance to bolster her image as an anti-Wall Street progressive hero and raise a few thousands, they succeeded. What this won't do is make it easier for Democrats to soften their tone toward Wall Street.
Updated with statement from Citigroup.
Before it's here, it's on the Bloomberg Terminal.
LEARN MORE