Run Warren Run Gets a Reboot
The demise of the draft campaign has been overstated.
by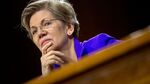 The week seemed to begin with a surrender. The Progressive Change Campaign Committee, which has shown formidable talent at winning press and a fitful record of winning elections, announced a campaign called "Ready for Boldness." Led by former Iowa Senator Tom Harkin, Iowa's lone Democratic congressman, and a swarm of county party leaders and former leaders in the first two primary states, the Ready for Boldness pledge called on "the 2016 Democratic presidential nominee" to commit to "a national goal of debt-free college at all public colleges and universities, expanding Social Security benefits instead of cutting them, creating millions of clean-energy jobs, reducing big-money influence in politics," and "breaking up the 'too big to fail' Wall Street banks."
The Financial Times, not alone in its assessment, read this as "the progressive wing of the Democratic Party" moving past its campaign to draft first-term Massachusetts Senator Elizabeth Warren into a presidential race, "shifting tack" to something achievable. Warren did not sign the letter; PCCC spokesman TJ Helmstetter says this is because the letter focused only on politicos from Iowa and New Hampshire. (Hilariously, a "long-term Clinton adviser" got anonymity to assure the FT that Clinton had indeed been "talking about inequality for years.")
Plus, other, softer targets were popping up. The PCCC had joined Democracy for America, a group that was part of the Draft Warren movement from the word "go," in successfully urging Maryland Representative Donna Edwards into that state's Senate race. Progressives including Florida Representative Alan Grayson were talking about challenging the party's preferred candidate, Representative Patrick Murphy, in a primary for the Senate seat that's likely to come open when Marco Rubio runs for president. And former Maryland Governor Martin O'Malley, who was likely to run for president, was doing exactly what the "Boldness" campaign asked, bracketing his Iowa visit this month with a pitch for a four-part Wall Street reform.
Insert sound of scratching LP. Harvard professor Larry Lessig, whose campaign against money in politics has led to the creation of a super-PAC (scaled down this cycle) and a movement to get 2016 candidates to commit to reform, is going to call on Warren to run. On April 20, which may be days after Hillary Clinton launches a president campaign, Lessig will join the Run Warren Run coalition and give a speech asking for the senator to go for it.
"Senator Warren wouldn't just create the genuine, hard-fought primary contest that this country needs," Lessig wrote in a blog post/announcement. "She—and, I believe, she alone—could also galvanize the movement that we'll need if the next president of the United States is to have a prayer of actually taking on this the hardest, most important issue of our generation—because only by solving this can we solve anything else."
Not even Lessig was saying that Warren would win the primary. In the 14 months since a New Republic cover story said Warren should make Clinton nervous, Clinton's lead in the New Hampshire primary has shrunk from around 53 points to around 42 points, far stronger than she was at a similar point in the 2008 cycle. This week's Emerson College poll in Massachusetts found Clinton leading Warren by 27 points in a hypothetical Massachusetts presidential primary. (She defeated Barack Obama by 16 points in the state in 2008.)
Run Warren Run organizers have told Bloomberg that Warren could compete if she entered the race as late as September of this year. The "Boldness" campaign and the O'Malley moves proved that the media would cover progressive ideas even if Warren did not spout them. It still relies on the narrative of Clinton worrying about her left flank, and about coming up with Wall Street-checking and inequality-fighting platforms. And the draft campaign knows that.
Before it's here, it's on the Bloomberg Terminal.
LEARN MORE