Obama's Afghanistan Exit Date Could Falter as Foes Cite Iraq
Toluse Olorunnipa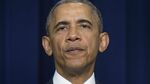 President Barack Obama's decision to leave almost 10,000 U.S. troops in Afghanistan through the end of the year may be a concession that America's longest war will endure beyond his presidency, security analysts and lawmakers said.
While Obama insists that he still plans to bring all but 1,000 military personnel home by early 2017, the decision to slow down their withdrawal from Afghanistan this year is renewing calls for him to abandon that deadline.
"He will be pragmatic about that final deadline," said Scott Smith, director of the Afghanistan and Central Asia program at the U.S. Institute of Peace, a congressionally funded, nonpartisan policy group in Washington. "What Afghans are looking for are signs of confidence in the partnership. The hard deadline looks like a lack of confidence."
The sprawling conflict with Islamic State extremists that threatens to expand beyond Iraq and Syria and deepening chaos in Yemen underscore the difficulty Obama will face as he tries to bring the 13-year-old conflict in Afghanistan to an end before leaving office.
The rise of Islamic State after U.S. forces left Iraq will weigh heavily on Obama as he makes his final decision on Afghanistan, said Kim Kagan, who advised U.S. General David Petraeus while he was the top commander in Afghanistan in 2010 and 2011.
Iraq Example
"We have seen in Iraq the consequences of pulling U.S. forces back before the security forces are ready and while there is still an active enemy within the country," said Kagan, founder and president of the Institute for the Study of War, a Washington policy research group that backs an aggressive U.S. foreign policy. "We could risk in Afghanistan the same sort of collapse of the Afghan security forces that we saw in Iraq."
After Obama declared Tuesday that his early 2017 deadline for reducing U.S. troops to about 1,000 "will not change," Republicans didn't hesitate to draw comparisons to Iraq.
"As the president considers his new drawdown strategy for 2016, I urge him to consider the consequences of his deadline-driven withdrawal in Iraq, where his decision allowed the enemy to regroup and morph into what we now call the Islamic State," Senator Tom Cotton, an Arkansas Republican who served in Iraq and Afghanistan, said in a statement.
Ghani Visit
Obama announced the slowed withdrawal Tuesday after a meeting with Afghan President Ashraf Ghani, who was in Washington to meet with defense officials, address members of Congress and mend a relationship that was strained by the denunciations of the U.S. by his predecessor, Hamid Karzai.
Ghani's expressions of gratitude for U.S. support and a vow to make his country self-reliant in his speech to Congress drew praise from lawmakers of both parties. The changed attitude and Ghani's warning that Islamic State is trying to establish a foothold in Afghanistan will add pressure to keep a high level of U.S. military support in the country.
Senator Lindsey Graham of South Carolina said while he welcomed Obama's decision to delay the drawdown this year, he worries about the timeline for a pulling out the rest of the U.S. forces.
"Don't pick an arbitrary date," said Graham, a Republican on the Armed Services Committee and a potential presidential candidate next year. "ISIL and other groups are looking for places to go," he said, using an another name for Islamic State.
Graham's comments were echoed by other Republicans, including House Speaker John Boehner of Ohio and Senator John McCain of Arizona.
No Change
White House press secretary Josh Earnest said Wednesday that Obama's original plan to pull most soldiers out of the country by 2017 hadn't changed.
"The change in policy does not affect that endpoint," he told reporters.
Some Democrats who are eager for the U.S. to end the war in Afghanistan criticized the new withdrawal plan.
"It's unfortunate," U.S. Representative Alan Grayson of Florida said in an interview. "The Obama administration has, without explicitly saying so, adopted the policy that we are the world's police officer."
Standing Ovations
Ghani received several standing ovations as he thanked the U.S. for 13 years of support in combat that cost more than 2,300 American lives. He pledged that the Afghan government would be able to finance and sustain its own security operations -- which are currently subsidized by U.S. funds -- within "this decade."
At the same time, he said Islamic State militants are already sending fighters into Afghanistan, underscoring the importance of continued U.S. support. The 9,800 troops currently in Afghanistan are helping to train the Afghan security forces as they take on the Taliban. Obama's original plan was to scale down that force to about 5,500 by the end of the year.
Under the new plan, the U.S. will evaluate next year how quickly to draw down its remaining force before the early 2017 deadline. The U.S. plans to keep about 1,000 soldiers in the country after the deadline to protect the embassy and carry out limited operations.
The durability of the Taliban and the deteriorating security situation in places like Iraq, Syria, Libya and Yemen mean Obama would face little political backlash for leaving troops in Afghanistan as he departs from office in 2017, Smith, of the Institute of Peace, said.
"It's part of the global fight to prevent the spread of these extremists," said Smith, whose group hosted Ghani for a speech Wednesday. "There's not a huge political cost here at home. He has plenty of political cover."
Before it's here, it's on the Bloomberg Terminal.
LEARN MORE