New Questions Emerge on Scott Walker's Immigration Stance
He told a private audience this month that he supports allowing undocumented immigrants to stay in the U.S. and eventually become eligible for citizenship, according to a new report.
by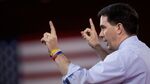 Facing new questions over his position on whether to allow undocumented workers to remain in the U.S., Wisconsin Governor Scott Walker travels to the Mexican border Friday with Texas Governor Greg Abbott.
The latest questions follow a Wall Street Journal report that Walker told a private dinner of New Hampshire Republicans on March 13 that he supports allowing undocumented immigrants to stay in the U.S. and eventually become eligible for citizenship.
Walker had already been accused by some potential Republican presidential rivals of flip-flopping on the issue, after he said earlier this month that his views had "changed" when it comes to "amnesty" for undocumented workers and that he no longer supported allowing them to remain in the country.  
Walker, who is expected to announce his presidential intentions late this spring, may be trying to balance his views amid a party divided on the issue. Many party activists are opposed to easing immigration laws, while business leaders and some independent voters think the policy should be revised to make it easier for those already in the U.S. to stay.
According to the Journal report,  Walker said undocumented immigrants shouldn't be deported and mocked 2012 Republican nominee Mitt Romney's suggestion that they would "self-deport." Instead, Walker said undocumented immigrants should be allowed to "eventually get their citizenship without being given preferential treatment" ahead of those already in line.
Kirsten Kukowski, a spokeswoman for Walker's political committee, Our American Revival, disputed the account. "Governor Walker has been very clear that he does not support amnesty and believes that border security must be established and the rule of law must be followed," she said. "His position has not changed, he does not support citizenship for illegal immigrants, and this story line is false."
Walker's reported remarks are closer to what he said about the issue in 2013, when he told a Wisconsin newspaper that he could envision undocumented workers who pay penalties being offered a pathway to citizenship. 
In a Fox New Sunday interview on March 1, however, Walker seemed to be trying to stake out a tougher position, perhaps seeking to get to the right of former Florida Governor Jeb Bush.
"I don't believe in amnesty, and part of the reason why I've made that a firm position is I look at the way this president has mishandled that issue," Walker said. "I think the better approach is to enforce the laws and to give employers, job creators the tools like e-verify and other things to make sure the law is being upheld going forward."
Pressed about the disparity in his two stances, Walker said his experiences and President Barack Obama's handling of the issue had led him to another position.
"My view has changed," he told Fox. "I'm flat-out saying it. Candidates can say that."
Before it's here, it's on the Bloomberg Terminal.
LEARN MORE