How to Stonewall an Investigation Into Your Government Agency's Cartel-Funded Sex Parties
A new watchdog report lists several sexual incidents of misconduct within the DEA, FBI.
by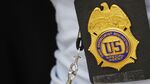 Apparently, some agencies are more open about their weird sex scandals than others.
On Thursday the Justice Department's Office of Inspector General released what's being called the "DEA sex parties" report—or, more officially, its investigation into how the Drug Enforcement Agency, the Federal Bureau of Investigations, the U.S. Marshals Service, and the Bureau of Alcohol, Tobacco, Firearms and Explosives handled various sexual misconduct allegations. The shocking bits of the report—workplace sexual harassment, office love triangles, soliciting prostitutes, and DEA sex parties in Colombia paid for by drug cartels—are just as salacious as the report's nickname implies, but what's also striking is how differently the agencies responded to requests from the department's watchdog arm.
The report claims the the investigation was "significantly impacted and delayed" by the DEA and FBI, the two larger agencies, which cited privacy laws as a reason for their heavily redacted reports. The DEA initially turned over case summaries that were so redacted investigators couldn't tell what the nature or circumstances of the cases were. Here's a sample page about...something, something, Rolex watch, something, "All subjects were alleged to have associated with prostitutes while in Bogota."

When the DEA and FBI did turn over files, investigators realized they hadn't received all of the relevant documents after following up with the agencies. 
The report also said the DEA improperly withheld information on an ongoing misconduct case, and only told them about it months later, when the case was closed. When the Inspector General's office re-interviewed DEA employees about the case, the employees said "they were given the impression that they were not to discuss this case with the OIG while the case remained open," though the investigators were entitled to the information.
As a result, the IG's office wrote that "we cannot be completely confident that the FBI and DEA provided us with all information relevant to this review." 
Before it's here, it's on the Bloomberg Terminal.
LEARN MORE