Doctors to Get Medicare Raise in Bill Passed by U.S. House
Billy House and James Rowley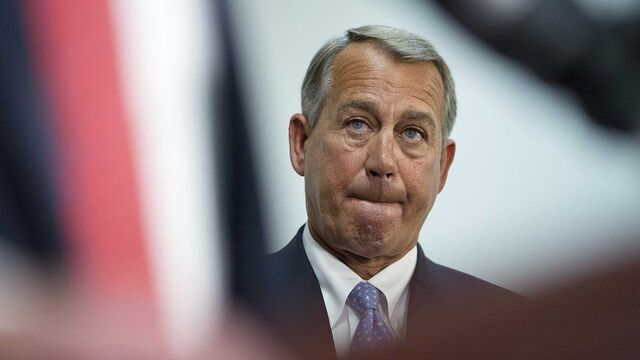 The U.S. House of Representatives voted to change the way doctors are paid for treating Medicare patients, giving Speaker John Boehner a second legislative victory following weeks of discord in his Republican caucus.
Lawmakers in both parties hailed the 392-37 vote Thursday as a breakthrough for a chamber often depicted as dysfunctional.
"I hope this bipartisan approach is contagious," said Democratic Representative Jim McGovern of Massachusetts on the House floor.
The vote, along with Wednesday's adoption by the House of its version of a fiscal 2016 budget, reflects a quick turnaround for Boehner from earlier disputes among Republicans that caused a near-shutdown of the Department of Homeland Security and forced some bills to be pulled for lack of support.
"Over the long term -- 20, 30, 40 years -- the bill will produce millions of dollars in durable savings for taxpayers," Boehner of Ohio told reporters before the vote. "This will be the first real entitlement reform that we have seen in nearly two decades."
President Barack Obama praised the bipartisan cooperation that got the measure passed and said he hoped the Senate would send it to him for his signature.
"This is great. Let's do more of this," Obama said during a speech at Lawson State Community College in Birmingham, Alabama.
Senate Vote
Senate Majority Leader Mitch McConnell of Kentucky said early Friday that his chamber will take up the measure when Congress reconvenes April 13 after a two-week spring break.
He said the delay wouldn't affect payments to doctors. Even though cuts in their pay would be set to begin April 1 under current law, the Centers for Medicare and Medicaid Services has said it won't begin to pay April bills for 14 days.
Voting for the bill in the House were 212 Republicans and 180 Democrats, while 33 Republicans and four Democrats opposed it. McConnell said he expects the measure to pass the Senate by a "very large majority."
Second-ranking Democrat Richard Durbin of Illinois had said Wednesday his chamber would pay attention if the bill passed the House with a bipartisan majority.
While senators want some changes, they "have to look at this on balance," Durbin said. "It's time to put this to rest once and for all."
Senator Dianne Feinstein, a California Democrat, told reporters she will support the legislation and predicted it will pass the Senate.
Replacing Formula
The bill, H.R. 2, would replace Medicare's cost-containment formula for physician payments in place since 1997. Congress has listened to warnings that physicians might stop taking Medicare patients and voted 17 times to prevent the formula from forcing cuts in doctor fees. The existing formula would cut doctors' pay by 21 percent starting April 1.
The American Medical Association, the largest U.S. doctors' organization, has lobbied annually since 2002, when physicians took a 4.8 percent pay cut, for Congress to stop further reductions in its members' Medicare compensation.
The measure also would include a two-year extension of the Children's Health Insurance Program past its current Sept. 30 expiration.
Bill sponsor Representative Michael Burgess, a Texas Republican and a doctor, said on the House floor that the plan is the result of "careful, intricate, bipartisan negotiations."
'Constant Threat'
"We coalesced against the constant threat of payment cuts," Burgess said, that "everyone agrees has got to go."
McGovern said, "This bill is not perfect. Nothing around here is perfect." Democrats wanted a four-year extension of the Children's Health Insurance Program. He also pointed to language that would restrict abortions at community health centers, though he said that wouldn't change current policy.
Democrats supported the measure because they see it as delivering benefits to low-income senior citizens, children and families. They say it would help low-income seniors pay their Medicare Part-B premiums, add $750 million for training nurses and doctors, and secure money for community health centers and the Children's Health Insurance Program over the next two years.
"It was my privilege to work with the speaker in a bipartisan way on this legislation," Minority Leader Nancy Pelosi of California said on the House floor. "I hope it will be a model of things to come."
Boehner, in a briefing with reporters, thanked Pelosi and second-ranking Democrat Steny Hoyer of Maryland for their work on the plan.
Bipartisan Approach
Asked to identify other legislative issues in which he might seek a bipartisan approach with Pelosi, Boehner said, "When I see one, I'll let you know."
"We've got a lot of tough issues," Boehner said, adding the House will do its work and that "we didn't get elected to come here and sit on our rear ends."
The House bill would replace the Medicare formula with annual 0.5 percent pay raises for doctors for five years. After that, rates would be frozen for five years and physicians would be asked to participate in programs that measure the quality of their care and award them bonuses for good work.
Starting in 2026, physicians' base Medicare pay would again rise by at least a quarter of a percentage point per year, in perpetuity.
The Congressional Budget Office says the legislation would cost taxpayers $141 billion in its first decade, a price tag that would usually cause revolt among fiscal conservatives. Still, an alternate CBO analysis said the measure would cost less than simply freezing physicians' Medicare payments for the next 10 years.
The measure would save $70 billion by limiting or cutting some payments to hospitals and other health-care providers and requiring Medicare's most affluent recipients to pay more out of pocket.
Before it's here, it's on the Bloomberg Terminal.
LEARN MORE