Aaron Schock is Kinda Like Abe Lincoln, He Says in Farewell Speech
The Illinois Republican said all Americans should be inspired by Lincoln's perseverance.
by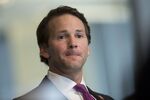 Honestly, Abe Lincoln. 
A little more than a week after announcing that he would resign over questions over his questionable spending practices, Representative Aaron Schock gave a farewell speech on the House floor Thursday in which he compared himself to another famous Illinois lawmaker: Abraham Lincoln. 
"I was never more excited than the day I walked into this chamber six years ago," Schock said, reflecting on his six years in Congress. "I leave here with sadness and humility." 
Schock recalled his accomplishments and regrets over the last six years, before ending on an optimistic tone, saying he believed that God has a plan for everyone and pointing out that other politicians have overcome adversity.
"Abraham Lincoln held this seat in Congress for one term, but few faced as many defeats in his personal, business, and public life, as he did," Schock said. He added that all Americans should be inspired by Lincoln's perseverance, "especially when going through a valley in life."
Schock's "adversity" started after a Washington Post story on his Downton Abbey-themed office raised questions about his spending and discrepancies in his reimbursements. The Associated Press reported last week that the Department of Justice and the FBI are investigating his spending. 
"I know that this is not the end of a story, but rather the beginning of a new chapter," Schock said. The same, however, cannot be said for the television show that inspired the decor of his office. 
Before it's here, it's on the Bloomberg Terminal.
LEARN MORE