Senate Budget May Offer Pregnant Workers a Measure of Relief
Pennsylvania Senator Bob Casey will introduce an amendment that would allow pregnant workers "special accommodation" on the job.
by and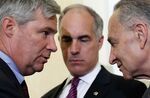 The Senate budget plan may provide a pathway for pregnant cashiers to get a stool to sit on while they ring up customers if Senator Bob Casey, a Pennsylvania Democrat, gets his way.
Casey said he will introduce and call for a vote on an amendment to the Senate budget resolution being debated this week that would require employers to make "reasonable accommodations" for pregnant women to continue working. The accommodations could be as simple as bathroom breaks, Casey said in a phone interview.
"I'm a 54 year old man and I'm not pregnant but I need bathroom breaks and I expect to have them in my workplace," Casey said. "Some of this is that basic."
Casey added that the proposed amendment would "at least get people on the record on the concept, which we haven't been able to do so far," though budgets don't have the force of law and are typically considered symbolic documents.
The proposal comes on the same day as a U.S. Supreme Court decision that backed the rights of pregnant employees, reviving a lawsuit by a former United Parcel Service Inc. driver who left her job when the company wouldn't provide less strenuous work as her doctor recommended.
The court's decision "still leaves too much uncertainty for other pregnant workers," Casey said in a press release. The ammndment will be a way of "reinforcing today's decision and providing an unmistakable rule for employers to follow."
Justices voted 6-3 to send former UPS employee Peggy Young's case back for a possible trial that would center on the company's reasons for giving temporary assignments to other workers while refusing to meet her needs. Young, whose job required her to load packages onto vehicles, was told by a doctor and midwife not to lift objects weighing more than 20 pounds during the first half of her pregnancy or more than 10 pounds for the rest.
She said the company refused to adjust her job responsibilities or temporarily assign her to a position that didn't require heavy lifting, although it gave workers with on-the-job injuries other duties.
Justice Stephen Breyer said the lower court that threw out the suit should have scrutinized UPS's justification for accommodating other workers.
"Why, when the employer accommodated so many, could it not accommodate pregnant workers as well?'' Breyer wrote.
Casey, who has proposed legislation requiring employers to make accommodations for pregnant employees, had led a group of more than 120 members of Congress in a brief to the Supreme court supporting Young's case.
Before it's here, it's on the Bloomberg Terminal.
LEARN MORE