John Kasich Says Bill Clinton Gets Too Much Credit for Budget Success
The Ohio governor says he knows what it takes to win in a swing state.
by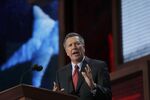 Bill Clinton gets too much credit for the fiscal discipline of the 1990s, Ohio Governor John Kasich, who helped drive tax-and-spending deals with the then-president as a Republican member of Congress, said today.
"He was there, but this idea that he balanced the budget is a joke," Kasich said during a Bloomberg-hosted roundtable with reporters from national news organizations. "He's very good at getting in front of a parade."
The remarks came as Kasich, who won a second term in 2014, began to sharpen the arguments he will make if he runs for president in 2016—a decision he insists he hasn't arrived at yet. If he does decide to run, he'll position himself as a swing-state victor who knows federal policy well enough to reshape the government. And, he says, Republicans can't win his state's 18 electoral votes unless they know how to appeal to the middle.
"You come through Ohio as an extremist, you're going to lose," he said. "Plain and simple."
Kasich also drew subtle, yet distinct contrasts with fellow Republican governors and lawmakers in Washington. In particular, he touted his improved relationships with unions in Ohio at a time when other Midwestern governors have appealed to Republican primary voters through efforts to fight organized labor.
Kasich, who saw his own union-busting legislation overturned by Ohio voters in 2011, said there's no reason to pick unnecessary political fights. He courted labor after the defeat of that law, which constrained the collective-bargaining rights of public unions, and won 53 percent of the votes from union households in 2014, according to exit polling. Voters in those households made up slightly more than one-fifth of the electorate.
Asked whether the lesson is that Wisconsin Governor Scott Walker would have trouble winning a presidential election in a labor-laden state such as Ohio, Kasich declined to identify a target of his observation. Walker survived a recall attempt after pushing anti-labor legislation and subsequently won re-election in 2014.
Kasich also criticized current and former state executives who turned down Medicaid money made available by the Affordable Care Act, a list that includes potential Republican presidential hopefuls Walker, Bobby Jindal in Louisiana, Rick Perry in Texas and Mike Pence in Indiana.
"Who wouldn't be for this?" he asked, contending that, even with a decline of the federal portion of spending over time, it was a good deal for states and their residents.
The decision to buck Republican orthodoxy and take the Medicaid money forms part of Kasich's case that his brand of conservatism is conscious of the human and societal costs of poverty. He also touted efforts to rehabilitate prisoners and treat the mentally ill.
Kasich is one of a small number of potential candidates who can claim both the executive experience of running a big state and the requisite inside knowledge of Washington's power levers to make big changes.
As chairman of the House Budget Committee for Clinton's last half-dozen years in office, Kasich worked with the president not only on balancing the budget but also on overhauling the primary federal welfare program. First elected to the House at the age of 30 in 1982, Kasich served nine terms before running a failed bid for the presidency in 2000.
CORRECTION: An earlier version of this story misstated the year Kasich was first elected to the House.
Before it's here, it's on the Bloomberg Terminal.
LEARN MORE