John Kasich Fires Off a Bipartisan Tweet
The possible 2016 candidate swung by for a visit during his trip to the Granite State.
by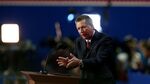 Ohio Governor John Kasich on Tuesday tweeted a photo of himself palling around with New Hampshire Governor Maggie Hassan.
It might not be so noteworthy except for the fact that Kasich is Republican and Hassan is a Democrat.
Kasich was in the statehouse meeting with the New Hampshire Senate president and House speaker and paid a visit to Hassan as well for about 15 minutes as a courtesy, spokesman Rob Nichols said.
Kasich, who is considering a 2016 presidential bid, was in New Hampshire for a two-day visit, speaking at several events, including a "Politics and Pies" event for the Merrimack County/Concord City GOP. 
Kasich's chummy approach to the Democratic governor contrasts with that of, say, New Jersey Governor Chris Christie. When he visited the Granite State in February, Christie blasted the governor, saying, "She will use this platform as a way to increase her own visibility and run for the next job," referring to a possible Senate bid.
Christie also spent a lot of time in the state leading up to last fall's the gubernatorial election, campaigning for Republican challenger Walt Havenstein in his role as Republican Governors Association chairman. Some Democrats found his criticism of Hassan to be ironic, given Christie's own penchant for out-of-state travel, including several trips to early presidential nominating states. 
In a February NBC/Marist Poll about the 2016 Senate race, Hassan led the state's Republican senator, Kelly Ayotte, who will be up for re-election, 48 points to 44 points. Hassan defeated Havenstein in November with 52.6 percent of the vote, winning by a five-point margin. 
Hassan wasn't the only Democrat Kasich made nice with during his trip. Former Democratic Representative Richard Swett said Kasich was "always a straight-shooter," though "pretty full of himself" when he was younger. 
"I think he's matured a lot," Swett said. "In many respects, he is normal and Washington D.C. is not."
Mark Niquette contributed to this report.
Before it's here, it's on the Bloomberg Terminal.
LEARN MORE