House Votes to Boost U.S. War Funds While Cutting Medicare
Billy House and Erik Wasson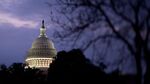 The U.S. House adopted a fiscal 2016 budget that would cut $5.5 trillion in federal spending and achieve balance in nine years while providing more defense spending than President Barack Obama has proposed.
In the 228-199 vote Wednesday, Republicans demonstrated that they continue to see political benefits and little disadvantage from making deep cuts to entitlement programs including Medicare and Medicaid.
"What we've got is a level of debt that was only surpassed in World War II," Budget Committee Chairman Tom Price, a Georgia Republican, said on the House floor. "Our balanced budget for a stronger America is the way to go."
The plan, H.Con.Res. 27, includes $96 billion in war funding, about $38 billion more than Obama has sought, although the president requested more money in other funding for the Pentagon. No Democrats voted for the plan, while 17 Republicans joined the minority party in opposing it.
The vote is a needed victory for Speaker John Boehner following a rocky start to the new session. A month ago, a revolt by Tea Party-aligned Republicans almost shut down the Department of Homeland Security in a fight over immigration policy. Boehner, an Ohio Republican, has had to pull other bills from the House floor for lack of support by fellow party members.
Whether the budget vote is a signal of smoother relations among House Republicans will be tested with upcoming deadlines to replenish the Highway Trust Fund and reauthorize the Export-Import Bank.
'Right Direction'
"We're moving in the right direction," said Representative Tom Cole of Oklahoma, a Republican member of the Budget Committee. He said another big test will come this week on a bipartisan, long-term plan to prevent cuts in doctors' Medicare payments.
The House defeated an alternate budget proposed by members of the Republican Study Committee that would cut spending more deeply and reach balance more quickly. Lawmakers also rejected three alternatives proposed by Democrats.
The Republican budget "squeezes hard-working families and is hard on everyone except for those at the top," said Representative Chris Van Hollen of Maryland, the top Democrat on the House Budget Committee, on the House floor. "That's the wrong way for America."
Agreeing on a budget plan won't resolve the fight over raising spending caps for the fiscal year starting Oct. 1 as a budget resolution isn't a law signed by the president. To raise the caps as defense proponents want will require a deal later this year with Obama and Democrats.
Senate Plan
The Senate, under Republican control for the first time in eight years, plans to adopt its budget plan by Friday. Both non-binding policy documents would go to a conference committee where negotiators would seek agreement on a joint plan.
A joint budget would allow use of a special procedure to let Republicans send legislation repealing Obamacare to the president's desk. Obama would veto such a measure, though Republicans say that if the Supreme Court strikes down most of the law's federal subsidies in the next several months, Obama could be brought to the negotiating table to change his health-care law.
"It is important that you have the opportunity to put on the president's desk a bill to repeal Obamacare and replace it," said Tea Party-backed Representative Jim Jordan of Ohio.
Presidential Campaign
"That keeps it front and center for the presidential campaign" next year, Jordan said. "He will veto it but you have to keep it front and center."
The House budget plan differs little from the one adopted last year. It calls for partially privatizing Medicare and cutting poverty programs to provide more funds for defense spending while avoiding tax increases.
The final House vote came after Republicans resolved a dispute over defense funding. Lawmakers adopted an amendment to increase war funds to $96 billion without offsetting any of that total with spending cuts elsewhere. The amendment was adopted on a 219-208 vote.
The Senate budget resolution, S.Con.Res. 11, would cut U.S. spending by $5.1 trillion and achieve balance in 10 years. The plan proposed by Senate Budget Committee Chairman Mike Enzi of Wyoming includes $96 billion in war funding after an amendment, sought by defense hawks, was adopted to boost the funds by $38 billion.
Republicans control the Senate 54-46 and can afford only three defections to adopt the budget. In 2013, centrists Susan Collins of Maine and Dean Heller of Nevada voted against the House-passed budget because it cut spending too deeply. Ted Cruz of Texas, Rand Paul of Kentucky and Mike Lee of Utah voted against it because it didn't cut enough.
Before it's here, it's on the Bloomberg Terminal.
LEARN MORE