Americans Less Likely to Care a 'Great Deal' About Environmental Threats
One trend that hasn't changed is declining concern about the environment among Republicans.
by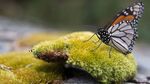 Americans' concerns over environmental issues including air and water pollution, plant and animal extinction, and rainforest loss has crept downward since last year, according to a new poll. 
Gallup measured how many Americans care "a great deal" about those issues and found a drop of five to eight percentage points, the polling organization said Wednesday. That came after an uptick from 2013 to 2014.
"Last year's increased worry proved temporary, rather than the start of a trend toward renewed concern about environmental problems," Gallup's Jeffrey M. Jones wrote.
Gallup surveyed 1,025 adults over the phone from March 5-8, and has a margin of error of plus or minus four percentage points. Concern over "global warming or climate change" dropped two percentage points over the past year to 32 percent, according to the poll.
One trend that hasn't changed is declining concern about the environment in the GOP. Between 2000 and 2015, the number of Republicans who said they worried a great deal about drinking water and air pollution dropped 21 percentage points and 28 percentage points, respectively. Concern about climate change among Republicans dropped 16 percentage points during that time. It rose four percentage points among Democrats.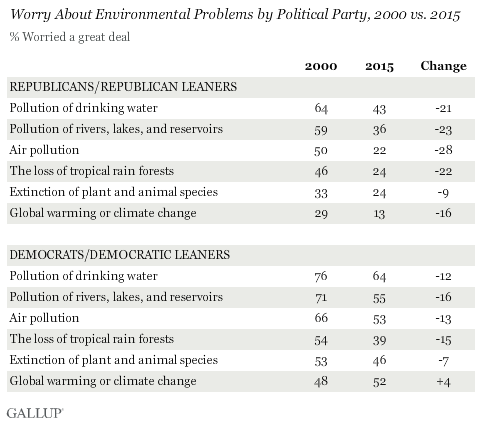 The poll results come as the environmental movement shifts its focus from more immediate concerns like water pollution to long-term risks like climate change. But despite increased media coverage over the last several years, concern for climate change remains nearly identical to the poll's March 2013 and 2014 results—32 percent of Americans say they care a great deal about it, and another 23 percent say they care a fair amount.
At the same time, it's worth paying attention to what questions a poll is asking. A January 2015 Pew Research poll 1 Pew interviewed 1,504 people over the phone from Jan. 7-11, 2015. the survey has a margin of error of plus or minus 2.9 percentage points.  asked what issues should be a top priority for President Obama in 2015. Thirty-eight percent of Americans said global warming, a rise of nine percentage points from the previous year. By that measure, concern over climate change is still on the rise. 
Before it's here, it's on the Bloomberg Terminal.
LEARN MORE