The Tea Party Gets a Third Crack at Winning in Indiana
A retirement gives conservatives one more chance to take over a red state.
by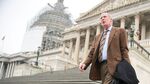 Former Senator Richard Lugar and the Tea Partier who helped beat him have one thing in common: They both had been tipped off that Dan Coats was going to retire. The Indiana senator, who came out of retirement in 2010 to win back a Democratic seat, was 71 and looking to move on. Lugar was sad to see him go, but had started to hear "some rumors" that Coats would retire.
"I've really enjoyed working with Dan Coats over the years," Lugar said in an interview. "He's always been a wonderful and loyal friend, and I think an able senator."
Greg Fettig had also known that a retirement was coming. Politically, this was even more important than Lugar's knowledge: Fettig, in 2012, had led a group called Hoosiers for a Conservative Senate, and had helped put Lugar into retirement with a Republican primary challenge from then-Treasurer Richard Murdock.
"The dynamics are different this time," said Fetting. "We'll certainly entertain it. Frankly, what we did with Hoosiers for a Conservative Senate was so unique that it'll be hard to replicate. In 2012, we were trying to take out an incumbent. We might have to get together to see who collectively the Tea Party might support."
Indiana's Senate seats, for strange and unpredictable reasons, have been the white whales of Tea Party politics. In 2010, when Democratic Senator Evan Bayh retired, conservative state Senator Marlin Stutzman jumped into the race to replace him. So did John Hostettler, a former congressman. So did Coats, a fixture in Republican politics who had moved to North Carolina but moved back for another chance at power in Washington.
Tea Partiers blew it. Most of them backed Stutzman; the rest of them scattered. The result was a Coats primary victory with 39.5 percent of the vote. It was that experience that led to the creation of Hoosiers for a Conservative Senate, which held a sort of intra-intra-party to settle on Mourdock as the one and only challenger to Lugar. 
The organizing paid off, in a way. Mourdock, who benefited from Lugar's late start in reconnecting to the state–epitomized by a scandal over his residency–clobbered the Indiana statesman. The Tea Party was all set to send its own champion to join Rand Paul, Mike Lee, and Jim DeMint in the Senate. But Mourdock became a cautionary tale when he stumbled on a debate question about why he opposed legal abortion even in cases of rape. "Even when life begins in that horrible situation of rape," he said, "it is something that God intended to happen."
Already struggling to break away from Democratic candidate Joe Donnelly, Mourdock hit the pavement and never got up. In 2010, the Tea Party had failed to capture a red state seat; in 2012, it was blamed for giving one to the Democrats.
The good news, according to Fettig, was that the movement was happy with a range of possible 2016 candidates. Youthful state Senator Jim Banks had been talked about, as had Representative Jackie Walorski. Stutzman might consider the race, and if so, was expected to become an acceptable frontrunner. The only candidates who could activate Hoosiers for a Conservative Senate again might be Eric Holcolmb, Coats's chief of staff ("Some people thought Lugar put him up to that," said Fettig), or Rep. Todd Young, a member of the 2010 Tea Party class that conservatives wanted to beat in his 2016 House primary.
Republican leaders, for whom the 2012 primary was a nightmare never to be repeated, were confident they had cracked the Indiana code. Texas Senator John Cornyn, who ran the National Republican Senatorial Committee in both 2010 and 2012, said that he'd already talked to Coats about the credible replacements who could run and hold the seat. He shook his head at the suggestion that Republicans needed to get involved early to prevent a challenge.
"That's the difference between the Republican Party and the Democratic Party," said Cornyn in a short interview outside the Senate floor. "The Democratic Party comes in and clears the field. The Republican Party doesn't work that way."
Of course, in 2012, Indiana became a battlefield between Tea Party and fiscal conservative groups that happily spent money against Lugar, and some fitful pro-Lugar spending. The setback there helped persuade outside groups, like the Chamber of Commerce, to intervene early to elevate establishment candidates in primaries. In 2014, despite close calls in Mississippi and Kansas, the big-money groups pitched a perfect game.
Lugar had no advice for Republicans on how to prevent another Tea Party challenge.
Before it's here, it's on the Bloomberg Terminal.
LEARN MORE