Ted Cruz Calls for 'Broad Coalition' Day After Campaign Launch
He pivots from an evangelical audience to the mainstream media.
by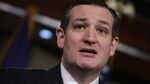 Texas Senator Ted Cruz said Tuesday his presidential run will be about bringing people together—even including social liberals, if they're interested.
"Absolutely, we welcome a broad tent and a broad coalition," Cruz said on NBC's Today, where he was asked whether his vision of the Republican Party had room for people who support abortion rights or same-sex marriage, both of which he opposes.
His comments came a day after announcing his White House campaign to an audience of evangelical Christian students in Virginia, becoming the first major candidate of the race.
"We need to bring together the old Reagan coalition of conservatives and evangelicals and libertarians and Republican women and young people and Hispanics and Reagan Democrats," Cruz also said, echoing his comments at the Conservative Political Action Conference last month. 
Asked by host Matt Lauer about a 2013 comment to Fox News that he doesn't "think what Washington needs is more compromise," Cruz said he supports compromises that help fix the country's problems but not those that go "backwards."
Cruz also appeared on CBS's This Morning on Tuesday and discussed foreign policy, saying that fighting the Islamic State should take a higher priority than confronting Syrian President Bashar al-Assad.
"I think ISIS is the far greater threat," Cruz said. "Assad is a monster, he is murdering his own people, but I don't think he poses a clear and present danger to America."
Before it's here, it's on the Bloomberg Terminal.
LEARN MORE