Senators to Seek Symbolic Vote on U.S. Sanctions on Iran
Erik Wasson and Kathleen Miller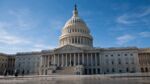 Republican Senator Mark Kirk said he'll seek to force a symbolic vote on increased U.S. sanctions against Iran during debate this week on the federal budget.
"I have an amendment coming up that basically recommends a new round of sanctions," said Kirk of Illinois.
Kirk said a Senate vote this week wouldn't be premature because the administration's March 24 deadline for an agreement with Iran over its nuclear program has passed. The State Department has said its goal is to reach the framework for a deal by the end of March.
President Barack Obama has urged lawmakers to be patient as negotiators try to reach an agreement and to hold off on taking other actions, including further sanctions, unless the talks fail.
"We are watching kind of a version of the ayatollah stole my homework," Kirk said.
Issues being discussed in the negotiations between Iran and six world powers include how much nuclear capacity Iran should be allowed to keep, the nature of inspections and the pace of relief from sanctions, especially on oil exports.
Kirk said he would introduce the measure as an amendment to the Senate budget plan with Democratic Senator Bob Menendez of New Jersey. Adam Sharon, a spokesman for Menendez, disputed that Menendez planned to cosponsor the amendment.
The Senate's budget plan isn't a binding law so the amendment can be seen as a political test vote. Senators are offering amendments for votes this week on a variety of issues.
Congressional Review
Senate Majority Leader Mitch McConnell said Tuesday that if there is a nuclear agreement with Iran, the chamber will vote later on a bill to require congressional review of the deal.
The legislation is sponsored by Senate Foreign Relations Committee Chairman Bob Corker, a Tennessee Republican, and Menendez, the panel's top Democrat.
"We will be taking up the Corker-Menendez proposal at some point if there is an agreement," said McConnell, a Kentucky Republican. "We're hopeful there will be as many as 67 senators who will say, Mr. President, we really do need to be able to approve the final agreement."
Sixty-seven Senate votes would be needed to override a presidential veto. Obama's administration has said he would veto the measure, which Corker has said his committee will consider on April 14.
Planned Vote
McConnell planned a vote on the bill weeks ago, though he backtracked after Democrats, including some of the bill's co-sponsors, said Senate action while the talks were continuing would damage the chances for success.
Corker's bill would require Obama to submit to Congress any agreement with Iran over its nuclear program. Lawmakers could hold hearings and approve or disapprove of the deal. The bill also would prohibit suspension of sanctions against Iran for 60 days after the president submits any deal to Congress.
McConnell said more sanctions will probably be necessary if the talks don't reach an agreement.
"We all know that sanctions seem to be the only thing that have worked so far," McConnell said. "So another heavy dose of sanctions would be an appropriate remedy if there's no agreement at all."
Before it's here, it's on the Bloomberg Terminal.
LEARN MORE