Obama Says No U.S. Troop Drawdown in Afghanistan Before 2016
Toluse Olorunnipa and Margaret Talev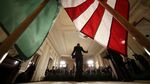 President Barack Obama retreated from plans to slash U.S. forces in Afghanistan by the end of 2015, a response both to growing threats from Islamic militants in the region and an improved relationship with the country's leaders.
About 9,800 military personnel will remain in Afghanistan through this year. Obama said he'll decide later whether to further revise a timetable that once called for the U.S. to have just 5,500 troops in the country by the end of December.
While maintaining a promise to withdraw all but 1,000 U.S. personnel by the end of his presidency, Obama's agreement with Afghan President Ashraf Ghani at a White House meeting Tuesday reflects warming relations between leaders of the two countries. Ghani, who thanked America taxpayers for their support at a news conference with Obama, had urged the president to reconsider his timetable for an Afghanistan drawdown.
"America's combat mission in Afghanistan may be over but our commitment to the Afghanistan people, that will endure," Obama said at the news conference. While the pace of future withdrawals will be part of discussions between the U.S. and Ghani's government, Obama said the date to complete the drawdown to enough troops to protect U.S. interests "will not change."
The proliferation of groups like the Islamic State -- and questions about whether Afghan forces can secure the country after U.S. troops leave -- have forced Obama to re-evaluate his military strategy in the country, where the challenge has come mainly from the Taliban.
'Truth to Terror'
Ghani has asked the U.S. to consider leaving troops in the country longer than Obama's planned timetable to ensure stability and to help Afghan forces deal with heightened attacks from the Taliban and the threat that Islamic State might make inroads there.
"We have the capacity to speak truth to terror," Ghani said at the news conference. "They do not speak for Islam. We do."
He said flexibility in the withdrawal timetable for U.S. troops will accelerate reforms in the government and further the training and equipping of Afghanistan's security forces.
The U.S. declared its combat role in Afghanistan over on December 31. The remaining U.S. forces, along with NATO troops, are training Afghan security forces and conducting counter-terrorism missions.
Afghan Defenses
Republicans have criticized Obama for withdrawing from Iraq on what they have alleged was a politically expedient timetable that allowed the rise of the Islamic State. House Speaker John Boehner said Obama should follow the advice of military leaders and members of Congress in deciding how quickly to draw down troops from Afghanistan.
"The president cannot repeat the mistakes he made that allowed for ISIL's brutal rise in Iraq -- dictating policy preferences divorced from security realities," Boehner said in a statement, using another moniker for the Islamic State.
As the U.S. has pulled back troops and air support, Afghan forces have struggled to contain the Taliban, according to a March report from the Institute for the Study of War. Taliban fighters have been able to mass in greater numbers without fear of U.S. air strikes, according to the report.
"Far from defeated, the ongoing Afghan insurgency remains a serious challenge and threatens to reverse hard-won prior gains," the report found. "This assessment contradicts some more optimistic statements by U.S. leaders at the end of 2014."
'Embassy-Centered Presence'
While Obama committed to evaluating the timeline again next year, he maintained that U.S. troops would be mostly out of Afghanistan by the time he leaves office.
"The timeline for withdrawal down to an embassy-centered presence, a normalization of our presence in Afghanistan, remains the end of 2016," he said. "That hasn't changed."
Ghani, an American-educated former World Bank official who took power six months ago, has won praise from the Obama administration for being a better partner than his predecessor, Hamid Karzai. During his trip to Washington he has repeatedly thanked the U.S. for supporting Afghanistan.
The U.S. has spent $65 billion so far helping to build up Afghanistan's army and police force, financial assistance that's likely to continue even as troops come home.
"You stood shoulder to shoulder with us and I'd like to say thank you," Ghani said at the news conference. "I'd also like to thank the American taxpayers for his and her hard-earned dollars that has enabled us."
Before it's here, it's on the Bloomberg Terminal.
LEARN MORE