Nevada Supreme Court Broke Because of Traffic Ticket Revenue Drop
The news that the court faces a $1.4 million shortfall comes amid a debate over the role of municipal violations.
by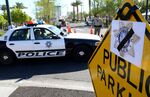 Time to play "Connect the Dots." 
Nevada Supreme Court Justice James Hardesty recently told state lawmakers that, because of a drop in revenue from traffic tickets, the court will soon run out of money. 
"If this is not addressed by May 1, the court will not have sufficient cash to operate," Hardesty said in his testimony to lawmakers, the Las Vegas Review-Journal reported. "I believe the legislature has a constitutional obligation to fund the judicial branch of government. Do you want me to close the judicial branch of government at the state level on May 1?" 
As in other states, the Nevada Supreme Court relies on assessments tacked on to traffic violations to help finance its annual budget, and, in the coming year, it will be short nearly $1.4 million as a result of the lost revenue. Hardesty said the problem is simply that police across the state are issuing fewer tickets. 
"I'm not faulting law enforcement; either they are understaffed or they have changed policies," Hardesty said. "Now with all due respect to the citizens of Nevada, I don't think anyone is driving better. I think the truth is is that we're seeing less traffic violations because law enforcement's priorities have changed and it has changed dramatically."
The news of the Nevada court's fiscal woes comes just days after HBO host John Oliver released a clip from his show, Last Week Tonight, in which he examined the way local municipalities have come to rely on the money raised from a variety of tickets and fines on their citizenry. 
The impetus for Oliver's segment was the Justice Department's recent report titled Investigation of the Ferguson Police Department, which concluded that city, court and law enforcement officials were engaged in what amounted to a coordinated fleecing of its most economically vulnerable residents. 
As the Nevada Supreme Court situation (as well as Oliver's observations) illustrate, however, governments across the country now rely on the money raised through municipal violations just to stay in business. 
Before it's here, it's on the Bloomberg Terminal.
LEARN MORE