Ted Cruz Begins 2016 Presidential Campaign With Conservative Rallying Cry
The next race to the White House has officially begun.
by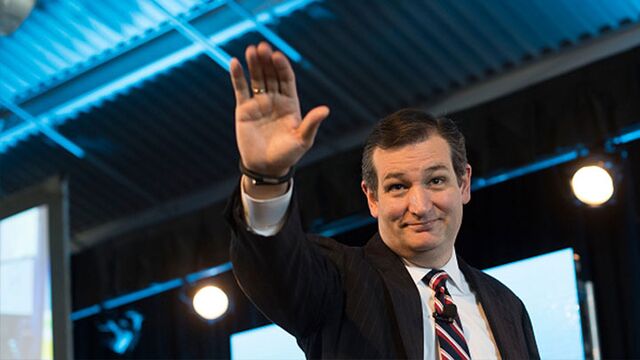 LYNCHBURG, Va.—Senator Ted Cruz of Texas kicked off his presidential campaign on Monday, calling for conservatives to "rise up to reignite the promise of America."
"It is a time for truth. It is a time for liberty. It is a time to reclaim the Constitution of the United States," Cruz said at a convocation ceremony at Liberty University, a religious school in Lynchburg, hours after announcing his candidacy on Twitter. "I am honored to stand with each and every one of you courageous conservatives as we come together to reclaim the promise of America, to reclaim the mandate the hope and opportunity for our children and our children's children."
Coming 20 months before U.S. voters go to the polls in November 2016 to choose President Barack Obama's successor, Cruz's announcement makes him the first major-party candidate to formally enter the race. The nominee to emerge from the crowded Republican contest will face the eventual nominee of the Democratic Party, whose presumptive frontrunner, former Secretary of State Hillary Clinton, has yet to announce a candidacy.
The venue and timing of his announcement signal that he intends to compete with other conservatives, including former Arkansas Governor Mike Huckabee, neurosurgeon Ben Carson, and Senator Rand Paul of Kentucky, for money and supporters as they prepare to battle with establishment contenders including former Florida Governor Jeb Bush, New Jersey Governor Chris Christie, and Wisconsin Governor Scott Walker.

Cruz's speech, staged at a university founded by the late evangelist Jerry Falwell, emphasized religion. Roaming a stage with a wireless microphone, he described his father deciding to abandon him and his mother when Cruz was 3 years old, only to be introduced to a Bible study group and a church.
"There my father gave his life to Jesus Christ," Cruz said to applause. "He drove to the airport, he bought a plane ticket, and he flew back to be with my mother and me."
He asked the audience to imagine how the U.S. would change if "born-again Christians" turned out to vote in higher numbers. "I believe in you," he told the audience, asking them to use their cell phones to text a phone number he provided, a common way for political campaigns to gather supporters' contact information for future fundraising solicitations.
He noted his speech coincided with the fifth anniversary of the signing of the Affordable Care Act, Obama's signature legislative achievement, and highlighted the efforts to fight the law by Liberty University and other religious institutions. Cruz grabbed national headlines in 2013 when he spoke for 21 hours on the Senate floor in favor of defunding the law and helped to trigger a partial government shutdown.
He described a president taking office in 2017 who would repeal Obamacare and accomplish a raft of other conservative priorities, such as abolishing the Internal Revenue Service, simplifying the tax code, securing the U.S. border with Mexico, protecting religious freedoms, and eliminating the Common Core educational standards. In a nod to libertarians who may be inclined to support Paul, he also invited the audience to "imagine a federal government" that protects Americans' privacy rights.
Referring to the Iran nuclear talks and Obama's absence at Israeli Prime Minister Benjamin Netanyahu's controversial speech to Congress this month ahead of his country's elections, Cruz won a standing ovation when he called for a president "who stands unapologetically with the nation of Israel."

Cruz's wife, Heidi, and daughters Catherine, 4, and Caroline, 6, accompanied him. Heidi Cruz, a managing director at Goldman Sachs Group Inc. in Houston, has taken an unpaid leave from her job to help with her husband's campaign, a person familiar with the matter said Monday.
Cruz faces a formidable fundraising challenge. Lacking the major Wall Street backing of hopefuls such as Bush, he aims to build a national donor base for the $40 million to $50 million he'll seek for the primary. He is unlikely to siphon early support from establishment-aligned hopefuls such as Bush, Christie, or Walker; his immediate task is to pull supporters away from candidates who have shown strength with evangelical voters, namely Huckabee, Carson, and former Pennsylvania Senator Rick Santorum. By announcing with a bang at the near-end of a financial reporting quarter, Cruz hopes to raise a bigger sum than any comparable candidate.
He has also been working to introduce himself to voters in the key nominating states of Iowa and New Hampshire, where he drew single-digit support in Bloomberg Politics polls this year. If nominated, he would upend the historical pattern of candidates who are first into the race: The only first announcers to secure nominations since the midpoint of the 20th century were Democrats Adlai Stevenson in 1956 and George McGovern in 1972.
Cruz has described in recent weeks how he sees Republicans retaking the White House in 2016. "We reassemble the Reagan coalition," he said at the Conservative Political Action Conference in Maryland last month. "We bring together fiscal conservatives and social conservatives and national security conservatives. We stand strong for economic growth. But we also stand for life and marriage. We defend constitutional rights but we also stand and lead the fight against ISIS and a nuclear Iran.
"The way we get to 51 percent is we bring together conservatives and libertarians and evangelicals, and women and young people and Hispanics and Reagan Democrats."
The 44-year-old won an open seat in the U.S. Senate in 2012 after a shocking victory over Republican establishment candidate David Dewhurst, then lieutenant governor.
He wasted little time after arriving in Washington. He won much of the credit, or blame—depending on observers' personal views—for the government funding standoff that resulted in a government shutdown in October 2013. His rallying cry was his unstinting opposition to President Barack Obama's signature health-care law.
He has had verbal scrapes with a number of his colleagues—of both parties. Arizona Republican Senator John McCain referred to him as a "wacko bird" early in the session for Cruz's treatment of Defense Secretary nominee Chuck Hagel. 
Throughout the summer of 2013, Cruz led a steady drumbeat of criticism of Obamacare, leading up to the start of the new fiscal year on Oct. 1 when a stopgap spending bill was needed to keep government agencies running.
He held the Senate floor for 21 straight hours on Sept. 24-25, declaring, "I intend speak in support of defunding Obamacare until I am no longer able to stand." As the House and Senate couldn't agree on the defunding issue, Congress failed to enact a spending bill for government agencies by Oct. 1, triggering a partial shutdown.
He was born in Calgary, Alberta, Canada, where his parents were working in the oil industry. His father, Rafael, fled Cuba for Texas in 1957 after being imprisoned and tortured by Fulgencio Batista's regime. Because he was born in Canada, Cruz held both U.S. and Canadian citizenship. He renounced the latter in 2013. 
After growing up in Houston, he went to college at Princeton and became a champion debater. After earning a law degree and editing the law review at Harvard, he served as a law clerk for an appeals court judge and then Chief Justice William Rehnquist before entering private law practice. In 1999 he signed on with George W. Bush's presidential campaign as a policy adviser. He worked for Bush on the post-election recount of ballots in Florida and then came to Washington to work at the Justice Department and then the Federal Trade Commission.
In 2003 he was appointed solicitor general of Texas. During his five-year tenure as the state's chief appellate lawyer, he argued nine cases before the Supreme Court. He left that post in 2008 and returned to private practice.
Ben Brody and Bloomberg Government contributed to this report.
Before it's here, it's on the Bloomberg Terminal.
LEARN MORE