Obama Seeks Boost in Foreign Investment at SelectUSA Summit
Toluse Olorunnipa-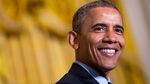 President Barack Obama pitched more than 1,200 investors and executives Monday on putting money into U.S. companies and projects, saying the nation's workforce and economic growth outpace the rest of the world.
"The American people like doing business and they respect business, and they're looking forward to working with you," Obama said in giving the keynote speech at the SelectUSA Investment Summit in National Harbor, Maryland.
Obama said he is looking to boost foreign direct investment to buttress his push for international trade partnerships and an overhaul of the U.S. corporate tax system.
Obama's appearance comes as his administration has been trying to highlight the U.S. economic recovery, and take credit for a declining unemployment rate. The U.S. added almost 3 million jobs last year, the most since 1999, and the unemployment rate fell to 5.5 percent in February.
"We've got a good story to tell and we wanted to make sure you all had a chance to hear it," Obama told the gathering.
The opening session includes remarks by Commerce Secretary Penny Pritzker; David Rubenstein, the co-founder of Carlyle Group LP; and Thomas Donahue, the president of the U.S. Chamber of Commerce. Warren Buffett, chairman and chief executive officer of Berkshire Hathaway Inc. appeared in a video message.
Economic Focus
As wages have lagged behind job growth and income inequality has widened during the recovery, Obama has shifted his policy focus to boosting high-paying industries, including technology and manufacturing.
According to the White House, SelectUSA had helped bring $20 billion in investments to the U.S. since its start in 2011.
The two-day summit at the Gaylord National Resort & Convention Center includes panels and discussions on some of the themes Obama has emphasized in recent weeks, including cybersecurity, trade, immigration, tax policy and infrastructure.
Along with Pritzker, several other top administration officials are scheduled to speak at the summit, including Secretary of State John Kerry, Labor Secretary Thomas Perez, Treasury Secretary Jacob J. Lew, Transportation Secretary Anthony Foxx and Agriculture Secretary Tom Vilsack.
More than 30 U.S. ambassadors led delegations to the summit and more than 70 global markets will be represented, according to the Commerce Department.
In addition to Buffett, corporate executives participating include Google Inc. Chairman Eric Schmidt, BMW North America Chief Executive Officer Ludwig Willisch and Michelin North America Inc. President Pete Selleck.
The Obama administration created SelectUSA in 2011 in an effort to boost foreign investment in the U.S.
Before it's here, it's on the Bloomberg Terminal.
LEARN MORE