Listen to Ted Cruz's Speech Mashed Up with John Lennon's 'Imagine'
The famous anthem got some new lyrics on Monday.
by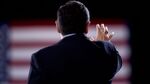 The oratorical flourish of Ted Cruz's announcement speech was his repeated use of the word "imagine," to paint a world in which someone—possibly, a freshman senator from Texas—had become president. "Imagine health care reform that keeps government out of the way," said Cruz. "Imagine abolishing the IRS... imagine a president who stands unapologetically with the nation of Israel... imagine it is 1775." And so on.
Many people heard this and began humming the mawkish block chords of John Lennon's 1971 hit "Imagine." Only the producers of PRI's "The Takeaway" went the full mile, however, and combined the speech with a karaoke read of the song.
This is not the first time that the late Beatle's ode to borderless socialism has edged into a presidential campaign. In 2011, when Herman Cain's insurgent bid picked up momentum, reporters in Omaha located the tape of the then-CEO of Godfathers Pizza singing a Frankenstein song called "Imagine There's No Pizza."
Sidebar: In 2011, this version of the song was popular karaoke choice for the young reporters of TalkingPointsMemo.
Before it's here, it's on the Bloomberg Terminal.
LEARN MORE