Jeb Bush's Father and Mother to Attend Houston Fundraiser
The 41st U.S. president and the former first lady will help their son raise money this week.
by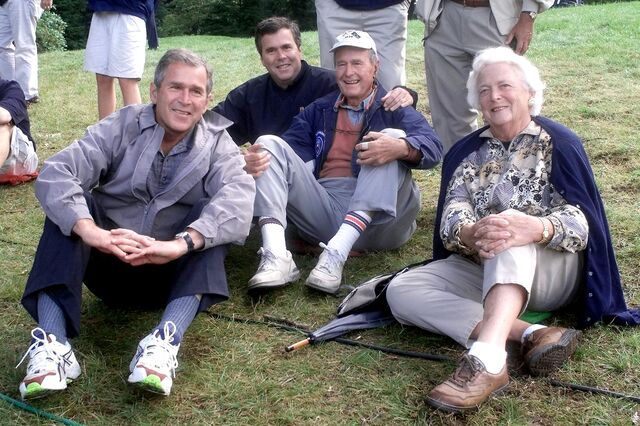 Former President George H. W. Bush and his wife, former First Lady Barbara Bush, will attend a fundraiser in Houston, Texas, on Thursday for their son, former Florida Governor Jeb Bush, who is weighing his own run for the White House, Bloomberg Politics has learned.
The fundraiser, described by two Republican sources will knowledge of the event, will be held after an event Wednesday in Dallas, where the former governor will be joined by his brother, former President George W. Bush. That fundraiser was reported first by the Dallas Morning News. The younger Bush will also be in Philadelphia on Tuesday for third fundraiser.
Bush's fundraisers come as he attempts to embrace his family while establishing his own identity with Republican voters across the country, whose reluctance to support a third Bush for president has helped keep the nomination race close in early polls. "I have to show who I am, what's in my heart, why I care about people and why I care about the mess we're in," Bush said in Las Vegas earlier this month. "It's the power of those ideas that hopefully will distinguish me from my family."  
In South Carolina last week, Bush referred to his father as his hero. "It's hard to see him not being able to walk, but he's still doing fine" he said, adding that Barbara Bush is the caregiver. "My mom has all these aches and pains being 89, but she never would let you know that."
The former president, whose socks have helped the Republican National Committee raise more than $3 million, will turn 91 in June.
Barbara Bush lent her name to a fundraising e-mail last week on her son's behalf. In the note to supporters, she wrote: "Our problems are so profound that America needs a leader who can renew the promise of this great nation. Which is why today I'm starting the Run Jeb Run fund."
Before it's here, it's on the Bloomberg Terminal.
LEARN MORE