Hillary Clinton Wades Back Into Policy Waters
With the likely launch of her campaign just around the corner, she offers a peek at how she will approach policy debates.
by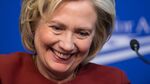 Former Secretary of State Hillary Clinton on Monday reveled in the wonkiness of a discussion of ways to combat income inequality in American cities and hinted that more conversations like it would be on the way.
"I love sessions like this because it's really nice to get back into an evidence-based discussion about what works, what doesn't work," she said at the Center for American Progress in Washington, D.C., where she spoke about urban challenges alongside union leaders, local officials, and Housing and Urban Development Secretary Julian Castro.
Clinton hasn't spent much time in recent months diving into policy in public forums. Her recent appearances have largely been paid speeches, and any discussion of policy leads to inevitable questions about her likely presidential candidacy. But with a campaign launch believed to be approaching, Clinton took a chance to hint at how she hopes to handle policy debates as she re-enters the political arena.
"Look at what works and get out of the very unproductive discussions that we've had for too long where people are just in their ideological bunkers having arguments, instead of trying to reach across those divides and come up with some solutions," said Clinton, speaking the same morning as Republican Senator Ted Cruz took to a stage in Virginia to say he would seek the White House. 
Turning to Compton, Calif., Mayor Aja Brown, who had discussed the city's efforts to fight gangs, Clinton added in an apparent reference to the Capitol or to the building she hopes to occupy, the White House: "Don't be surprised if you get a call to come. Maybe we'll start not too far from here in a beautiful domed building, get everybody in the same room."
Clinton's policy comments were focused on inequality and jobs, and not on areas where she has some disagreements with the left wing of her party, including trade.
"One of the biggest issues we face is income inequality combined with wage stagnation," she said. "A lot of our cities truly are divided. They have a lot of inequality that has only gotten worse."
In cities, Clinton said, some of the most "dynamic, well-educated, affluent people in the world" live alongside "people who are trapped in generational poverty and whose skills aren't keeping up with what the jobs of today and tomorrow demand."
One area of emphasis, she suggested, should be the 5 million Americans age 16-24 who are not in school and do not have jobs. "We have to focus on that first job and get that person into that system so that they can get better educated and better opportunities will come," she said.
Before it's here, it's on the Bloomberg Terminal.
LEARN MORE