Ted Cruz to Announce Presidential Bid Monday, Aide Says
He becomes the first major Republican candidate to formally join the race.
by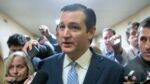 Texas Senator Ted Cruz will announce Monday he is running for president, according to an aide, making him the first major Republican candidate to formally join the race.
The move by the conservative freshman, whose opposition to President Barack Obama's health-care law helped lead to a government shutdown in 2013, kick-starts his party's contest to choose a White House nominee for 2016.
Cruz will skip the exploratory phase and go straight to a campaign, the aide said Sunday. The announcement will take place at Liberty University, a Christian school in Lynchburg, Va.
The venue underscores the support Cruz, 44, may need to consolidate among social conservatives in order to compete against more establishment-aligned figures such as former Florida Governor Jeb Bush, New Jersey Governor Chris Christie, and Wisconsin Governor Scott Walker, who are all preparing to run but have not formally declared themselves candidates yet.
The Houston Chronicle first reported Cruz's plans on Saturday. He has set a fundraising goal of $40 million to $50 million during the primary, the newspaper reported, citing advisers with direct knowledge of his plans.
An announcement Monday allows Cruz to leapfrog anti-establishment rival Rand Paul on the calendar. The Kentucky senator, who has been more successful than Cruz in converting conservative and libertarian fans into a fundraising base, is expected to announce a presidential bid April 7 in Louisville.
Cruz has drawn single digits in Bloomberg Politics polls in the key nominating states of Iowa and New Hampshire this year.
David Weigel contributed to this report.
Before it's here, it's on the Bloomberg Terminal.
LEARN MORE