Ted Cruz Is First to Declare, and That's Probably Not a Good Thing
The Texas senator will announce he is a presidential candidate on Monday.
by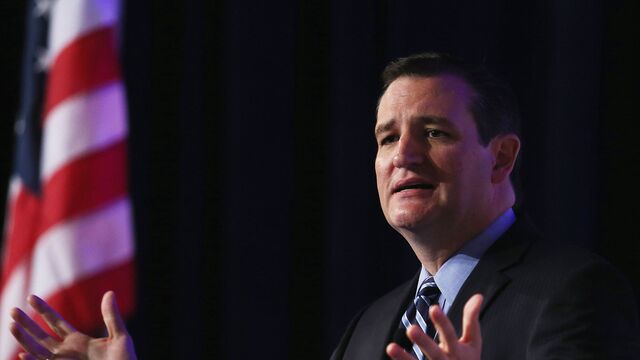 Being first isn't all it's cracked up to be. 
With his announcement on Monday, Ted Cruz will be the first candidate to enter the 2016 presidential race. He joins a not-so-illustrious club of first announcers, a group whose members haven't won a presidential election since before 1952, as far back as there are records.
Cruz will announce at Liberty University, a Christian college in Lynchburg, Va., Bloomberg Politics confirmed Sunday. He will bypass the exploratory committee phase, jumping straight into campaign mode.
Cruz is something of a departure from first announcers of recent cycles in that he's got serious fundraising goals (between $40 and $50 million), and he's not running mainly to bring attention to a certain issue.
A November Bloomberg Politics analysis of presidential candidates and when they announced found that the ideal time to announce is in June, and that no first announcer has won the election since at least 1952. Since then, the only first announcers to secure nominations were Democrats Adlai Stevenson in 1956 and George McGovern in 1972.
In 2012, the first Republican in the race was Fred Karger, a gay rights activist who became the first openly gay presidential candidate.
In 2008, the first candidate to announce was former Alaska Senator Mike Gravel, a Democrat who hadn't held public office since the early '80s. He ran a budget campaign originally to bring attention to his organization, the National Institute for Democracy. The next candidate in the race was former Democratic Representative Dennis Kucinich.
In 2004, Reverend Al Sharpton was the first to announce his candidacy as a Democrat and in 2000, the first to announce was Republican New Hampshire Senator Bob Smith.
Before it's here, it's on the Bloomberg Terminal.
LEARN MORE