Starbucks Ends #RaceTogether Cup Campaign After One Week
The company's efforts to spark a conversation on race were widely derided on social media.
by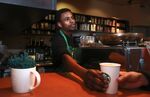 Suffice it to say that Starbucks' Race Together initiative has not yet solved the vexing problem of racism in America.
The company announced in a memo that it would stop directing its employees to write the words "Race Together" on coffee cups just shy of its intended one-week push. While Starbucks' chairman and CEO Howard Schultz said the campaign would go on without the cup messages, he acknowledged that the social media ridicule that they sparked. 
"While there has been criticism of the initiative—and I know this hasn't been easy for any of you—let me assure you that we didn't expect universal praise," Schultz wrote in the memo. 
 The effort was intended to inspire a national conversation about race. In a news release announcing the initiative, the company described the rationale behind the campaign:
As racially-charged tragedies unfolded in communities across the country, the chairman and CEO of Starbucks didn't remain a silent bystander. Howard Schultz voiced his concerns with partners (employees) in the company's Seattle headquarters and started a discussion about race in America. Despite raw emotion around racial unrest from Ferguson, Missouri to New York City to Oakland, "we at Starbucks should be willing to talk about these issues in America," Schultz said. "Not to point fingers or to place blame, and not because we have answers, but because staying silent is not who we are."
The plan did get people talking about race, but not in the way that Starbucks intended. 
The memo from Schultz called the Race Together initiative "just the catalyst" for what the company hopes will be a larger dialog on race, and said that Starbucks will continue to try and further that conversation with special sections in USA Today, and by opening more stores in minority communities, the Associated Press reported. 
Before it's here, it's on the Bloomberg Terminal.
LEARN MORE