Mitt Romney Reveals His 'Biggest Mistake' of 2012 Campaign
The former Massachusetts governor said he should have made his case better to minority voters.
by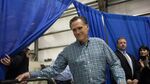 Former Republican presidential nominee Mitt Romney said that, in 2016, his party's candidates need to do much better than he did at communicating to minority voters what the GOP is offering them.
"I think we have a real difficulty in the party, and myself included, communicating to Hispanic voters and minority voters generally why it is that conservative principles are better for them and their families than those that are being promoted by the liberals, by the Democrats," he told Yahoo's Katie Couric in an interview that went online Thursday. "That's something I didn't do very effectively," he said, calling it "without question the biggest mistake that I made in the campaign."
The former Massachusetts governor, who challenged President Obama in 2012, said he wants to see the Republican "nominee do a better job communicating to Hispanic voters that we love legal immigration" and want to stop illegal immigration. "I will be talking to our nominee about the mistakes that I made," he said.
He also struck back at the contention in a recent memoir by former Obama senior aide David Axelrod that Romney, in his 2012 concession call to Obama, implied that getting out the African American vote was key to the president's electoral success. 
"I had nothing but congratulations for the president and positive feelings that I expressed to him," Romney said.
Romney explained, after a brief flirtation earlier this year with running again for president, that he withdrew because he "ought to get out of the way and let someone in the next political generation step forward who had a better chance potentially of winning the White House." He added that there there were no "reasonable circumstances under which I would be a Republican contender for the White House in 2016."
He called former Florida Governor Jeb Bush a friend, a "terrific guy," and "a very formidable and capable candidate" who had a good financial operation and would make a good president. He declined to endorse Bush, though, saying he wouldn't be endorsing anyone until "maybe way down the road."
Romney called Wisconsin Governor Scott Walker "a very well defined governor" who wasn't moving to the right to appeal to primary voters. "I think he makes a very compelling case to become a nominee," Romney said. He also expressed his feeling Florida Senator Marco Rubio had demonstrated "a real understanding of foreign policy" in a way that might be key to the 2016 race.
On the Democratic side, he slammed former Secretary of State Hillary Clinton for her use of personal email to conduct government business, but said ultimately that her foreign policy record would "be the most difficult aspect of her campaign."
He also weighed in on other political issues, including the letter from 47 Republican senators to the Iranian leadership that the White House has accused of being an effort to undermine its diplomacy efforts. "My preference would have been a full page ad directed to the people of America as well as the people of the world," Romney said, although he didn't condemn the letter and said its content was true.
Before it's here, it's on the Bloomberg Terminal.
LEARN MORE