Islamic State Could Strike U.S. Military Personnel in America, McCaul Says
The Islamic State has released a hit list of U.S. soldiers.
by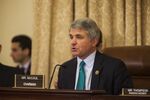 The fight with the Islamic State could be coming to American soil. 
ISIS fighters returning to the U.S. and homegrown terrorists could manage attacks on U.S. military personnel within the country, according to Representative Michael McCaul, who chairs the House Committee on Homeland Security.
"I think, unfortunately, it would be not-so-difficult to pull off," McCaul said Sunday on ABC's This Week.
A group claiming to be affiliated with ISIS, also known as the Islamic State, released a "hit list" of U.S. military personnel, including names and addresses over the weekend. The Pentagon has reached out to the families. 
Still, McCaul said, an attack on American forces in the Unites States was not inevitable. 
"Good intelligence stops plots against the homeland… Without that intelligence, we can't effectively stop it," McCaul said. "That's what I'm worried about."
The Texas Republican also said that the withdrawal of U.S. special forces from Yemen as a Shi'ite militia captured the nation's third-largest city would weaken the U.S.'s ability to monitor militants in the region.
Before it's here, it's on the Bloomberg Terminal.
LEARN MORE