Boston Globe Urges Elizabeth Warren to Run Against Hillary Clinton
The newspaper argues that Warren could "enrich the political process" by jumping into the presidential race.
by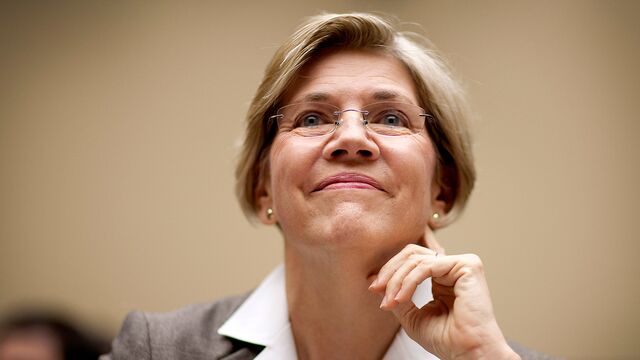 Saying that Democrats need a "vigorous debate" on issues like income inequality, international trade agreements, and financial reform, the Boston Globe editorial board declared that liberal Massachusetts Senator Elizabeth Warren should run against Hillary Clinton for the party's 2016 nomination.
"Democrats would be making a big mistake if they let Hillary Clinton coast to the presidential nomination without real opposition, and, as a national leader, Massachusetts Senator Elizabeth Warren can make sure that doesn't happen," the newspaper, which also endorsed then Senator Barack Obama in his 2008 bid against Clinton, wrote Sunday. "If [Warren] puts her causes and goals front and center, as Democrats gather their forces for the crucial 2016 campaign, Warren could enrich the political process for years to come."
The 143-year-old newspaper from Warren's home state said that a run against Clinton would allow the party to hash out "some serious divides that ought to be settled by the electorate." Those issues includes the Trans-Pacific Partnership trade deal that President Obama wants to pass, and that divides the two women, with Warren opposing it and Clinton supporting. But the editorial board also mentioned issues like financial reform, on which Warren and Clinton seemingly agree but on which Warren is considered stronger voice by many on the left.
The former secretary of state is the Democratic front runner in all major polls with few major Democrats even considering opposing her, even though an official announcement of Clinton's candidacy isn't expected until April. Warren's supporters have touted her vigorously as an alternative to Clinton, but the first-term senator has repeatedly stressed that she will not run.
"[S]he ought to reconsider," the Globe said. "And if Warren sticks to her refusal, she should make it her responsibility to help recruit candidates to provide voters with a vigorous debate on her signature cause, reducing income inequality, over the next year."
The paper also reasoned that Clinton's near inevitability, which is widely thought to have hurt her in 2008, may also present problems in the general election in 2016. Warren could alleviate that, and although, she doesn't have a well defined foreign policy record, she could come from behind in much the same way Obama did, the Globe said.
Warren, the newspaper said, "should not shrink from the chance to set the course for the Democratic Party or cede that task to Hillary Clinton without a fight."
Before it's here, it's on the Bloomberg Terminal.
LEARN MORE