Scott Walker Once Backpedaled After Supporting Wisconsin Gun-Control Bill
His flirtation with the issue could create an opportunity for competitors.
by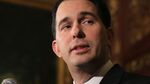 Wisconsin Governor Scott Walker's got an A-plus rating from the National Rifle Association, but he once backed a bill that could have jailed gun dealers who sold weapons without trigger locks—and the people who bought them.
Walker, at the time a junior member of the state assembly, briefly co-sponsored a bill in 1995 making it illegal for any federally licensed gun dealer in the state to sell a weapon that wasn't secured with a trigger lock, and also made it illegal to buy one. The penalty: fines of up to $10,000 and jail sentences of up to nine months.
Now that Walker is preparing to run for president—and seen by some as the early frontrunner for the Republican nomination—his flirtation with gun control could create an opportunity for competitors who have been more pure on the issue to question the depth of Walker's anti-gun-control beliefs.
The NRA hated the bill. So did the Wisconsin Pro-Gun Movement. Both sent officials to speak against the measure at a public hearing that Walker attended on March 16, 1995. The bill's sponsor scrambled to water it down, offering an amendment the following month, but the damage was done. Walker and Assemblywoman Bonnie Ladwig withdrew their sponsorship more than two months later, in May, and the bill died.
"It's obvious why Scott Walker and Bonnie Ladwig would jump off as soon as they saw what it was," James Fendry, who spoke against the measure on behalf of the Wisconsin Pro-Gun Movement, said in a telephone interview with Bloomberg. "That bill was being circulated as a conservative pro-gun bill and in truth it was not." 
Walker's support of the bill put him on the same side as then-Assemblywoman Tammy Baldwin, a Democrat who is now among the most liberal members of the U.S. Senate. It's not clear why he co-sponsored the legislation in the first place or why he withdrew his name—though it was after the NRA dispatched an operative from the Washington, D.C., suburbs to register the group's opposition to it.
A spokeswoman for Walker's political action committee said she could not provide details of Walker's decision to sponsor the bill, or to back away from it.
"It was one bill 20 years ago and he has had an A+ NRA rating that year and subsequent years, so it's not something he was championing," Kirsten Kukowski said.
Texas Governor Rick Perry, who is also considering a presidential run, bragged at an NRA forum in Houston in 2013 that he is a "lifetime member" of the NRA.
"I realize to those who don't understand the issue gun laws may look like an easy fix and it may make some of them even feel like they've solved a problem, except they don't fix anything," he said. "They do nothing but make it harder for law-abiding Americans to own guns."
Texas Senator Ted Cruz, Louisiana Governor Bobby Jindal, and former Pennsylvania Senator Rick Santorum—other potential presidential candidates—all spoke to the same convention and made similar points.
Walker addressed the audience by video, calling attention to concealed-carry and "castle doctrine" laws he signed as governor and thanking NRA members for helping defeat an attempt to recall him in 2012. The "castle doctrine" measure provided protections for people who shoot home intruders.
"Thank you for continuing to fight for freedom in our states and our nation's capital," he told the NRA forum. "God bless you and the work you do."
Walker also highlighted his gun record during an appearance in South Carolina, a key state in the presidential nominating contest, on Friday.
"I signed into law a shall-issue, concealed-carry law and castle doctrine because we believe in the Second Amendment in our state," he told Republicans at a Charleston luncheon.
Walker's been a reliable ally for the NRA, the group paid for ads supporting him for governor in 2014, and he's usually garnered an A+ rating from the group both in the legislature and as governor.
Some of the key players in the debate over the trigger-lock bill have died, and others don't have sharp recollections of the particular bill. Peggy Rosenzweig, a Republican state senator from Walker's part of the state who was one of the 19 co-sponsors of the legislation, declined to comment for this story.
At the time, though, Republicans like Walker and Rosenzweig, from the Milwaukee area, sought to show moderation on gun control. At the federal level, Senator Herb Kohl, a Wisconsin Democrat, would introduce a similar bill in Washington two years later.
The state's legislative research bureau couldn't provide a transcript of the 1995 hearing. Steve LeMire, a gun-rights advocate who spoke against the bill that day, said "the biggest issue is it was a poorly worded bill" that would have had unintended consequences.
John McCormick contributed to this report.
Before it's here, it's on the Bloomberg Terminal.
LEARN MORE