Obama Says Iran Hasn't Made Concessions Needed for Agreement
Mike Dorning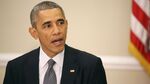 President Barack Obama said Iranian negotiators have made concessions in nuclear talks, though not enough to seal an agreement with the U.S. and five other major powers to lift some sanctions.
While no draft agreement is on the table, Obama still held out the possibility of reaching a framework within weeks.
"They have not yet made the kind of concessions that are I think going to be needed for a final deal to get done," Obama said in an interview with the Huffington Post published Saturday. "But they have moved, and so there's the possibility."
Obama also kept up pressure on Israeli Prime Minister Benjamin Netanyahu over his pre-election remarks that there would be no Palestinian state while he's in office.
The president said he told Netanyahu in a phone conversation Thursday that peace talks are the only way to guarantee Israel's long-term security and now "it is going to be hard to find a path where people are seriously believing that negotiations are possible."
The latest round of talks on Iran's nuclear program ended Friday in Lausanne, Switzerland, without a deal, though U.S. Secretary of State John Kerry said "substantial progress" had been made.
'Matter of Weeks'
Negotiators from the U.S. and five other nations are seeking to ensure that Iran's nuclear program is peaceful in exchange for relief from sanctions that have hobbled its economy. Obama said he hopes to conclude a deal "in a matter of weeks, not months."
"There is no deal until everything is worked out," Obama said. "And I think that it's premature to suggest that there is a draft out there."
He said that any agreement will have to demonstrate to the U.S. public, the Israelis and the world that Iran's compliance is verifiable, transparent and will make it much less likely that the government of Tehran will be able to assemble a weapon in a short period of time.
Negotiators from the U.S., Germany, Russia, China, France and the U.K. will be consulting with their respective governments before returning to talks in about a week.
Obama has repeatedly said he's prepared to walk away from negotiations if a deal can't be reached to prevent the Islamic Republic from building a nuclear weapon.
The two sides have given themselves until March 31 to agree on the framework of an accord. Netanyahu and Obama's domestic critics have accused him of ignoring Iran's support for international terrorism and rushing to mend ties with a nation that they say seeks to destroy Israel.
Israel's Security
The Iran negotiations have been one of the friction points in an already strained U.S.-Israel relationship. Obama and Netanyahu also are at odds over Middle East peace negotiations.
Obama, in the interview conducted Friday, said he had spoken with Netanyahu, congratulated him on his re-election and told him "we continue to believe that a two-state solution is the only way for the long-term security of Israel."
Obama continued the drumbeat of administration criticism of Netanyahu after the Israeli leader said just before Israeli voters went to the polls Tuesday that there would be no Palestinian state as long as he's in office.
Obama warned that the U.S. can't "in perpetuity maintain the status quo" of expanding Israeli settlements and that Netanyahu's comments undercut the possibility of talks to address the Israeli-Palestinian conflict.
Backtrack
While Netanyahu has backtracked by saying in an MSNBC interview Thursday that he favored "a sustainable, peaceful two-state solution," Obama indicated he isn't convinced that it represents a change.
"We take him at his word when he said that it wouldn't happen during his prime ministership," Obama said. "And so that's why we've got to evaluate what other options are available to make sure that we don't see a chaotic situation in the region."
Obama said that U.S. military and intelligence cooperation won't be affected by the rift.
Before it's here, it's on the Bloomberg Terminal.
LEARN MORE