Donald Trump Is Totally Serious This Time, He Swears
In New Hampshire, the Donald Trump whirlwind spins a little more slowly.
by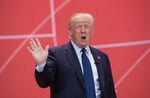 AMHERST, N.H.—For a few hours on Thursday night, the home of Republican New Hampshire state Representative Stephen Stepanak was enveloped by a reality distortion field. Outside, in most of the state and country, the latest Donald Trump for President movement was an obvious joke. He'd played the media in 1987, and 1999, and 2007 (sort of), and 2011. No more. "We feel that the prospect of Congress changing the Constitution to allow newborn deer to be eligible to become president of the United States is an idea that is 1,000 times more worthy of serious, intellectual consideration than a Donald Trump candidacy," wrote Jason Linkins in the Huffington Post.
Yet to approach to Stepanak's home, a Trump-sized manse at the intersection of two off-roads, was to find one's way blocked by irregularly parked cars. Stepanak had tried to cap the (free) event at 200 people. On Wednesday, when the Manchester Union Leader confirmed that Trump had set up an exploratory committee, the invitation and request lists swelled. By game time, around 350 were crammed into the house. All wore white stickers with "TRUMP" printed on them in a sort of gold color. More than 100 of the attendees, according to Stepanak, were Republican state legislators. 
"I started counting the legislators on the list," said former House speaker William O'Brien, a conservative who'd been deposed in a bipartisan coup in 2014. "I stopped after it got ridiculous. I mean, I was on my phone all day, texting 'no' to people."
Now: The New Hampshire General Court has 424 members, 253 of them Republicans. They are hardly in the business of snubbing the candidates who pay tribute to them. In the room where Trump would speak, the only pieces of furniture not hauled off to make space for spectators was a table crammed with mementos from political visits—Mitt Romney at a 2005 dinner, Rand Paul at a 2013 dinner, Scott Brown as a New Hampshire candidate, Scott Brown as a Massachusetts candidate, even something signed by Texas Representative Louie Gohmert. (He signed his first name. That was it.)
But Trump did not slack. He blew into New Hampshire in the morning and participated in a town hall meeting ("Meet the Candidate") facilitated by WMUR, a Manchester station. From there he worked through a series of closed meetings, with veterans groups and legislators. He sat for an editorial board meeting with the Union Leader, which the paper streamed on Meerkat. The video was lost to the cloud, but the paper's Friday front page gave Trump his desired headline:

And the house party gave Stepanak and O'Brien their desired coming-out party. In conversations, legislator after legislator said he considered Trump a real candidate.
"This time he's not screwing around," said state Representative John Potoucek, "because the country's in sucky shape."
The house party was intended to inaugurate a monthly (at least) meet-up between the New Hampshire GOP legislative conference, key activists, and conservative presidential candidates. In January, the two of them had actually urged Trump to launch the house parties when they'd met him at Citizens United's Freedom Summit in Iowa. O'Brien buttonholed Trump, who was game.
And how game. Trump arrived at the home slightly after 5:30 p.m., slipping from a black SUV into a room where he could talk privately with O'Brien and others. Later, when he introduced Trump, O'Brien took a little time to mock Fergus Cullen, a former state GOP chairman who'd recently brought Jeb Bush to his home for a much-covered party.
"He's making a list of people he doesn't want to darken his doorstep," said O'Brien, as 350 people crammed elbow to elbow in front of him. "Bernie Sanders has already agreed to come. Hillary can't make it—she told him that she already had the liberals wrapped up."
Trump, who had battled his way through the crowd, stood by O'Brien's side as Stepanak read a lengthy tribute to his life and work. "Mr. Trump has written over 15 bestsellers. His first book, The Art of the Deal, is a business classic. During the 2014 political cycle, Mr. Trump was a top contributor and fundraiser for Republican efforts. He was very helpful to candidates in New Hampshire, and we thank him for that."
The tribute went on for nearly two minutes, and included a discussion of the ratings of The Apprentice. (Most people at the party were under the impression that Trump's run would end the show, which isn't true, or that if it continued, Trump's children would host it.) When Trump finally got behind his podium, he joked that the crowd gathered for him had "destroyed" the house—at which point, a wine glass shattered in the distance.
"If the house comes down, it's demolished, I don't care," said Trump. "Because I'm leaving."
The speech that followed was as stream-of-consciousness as any Trump had delivered at the Freedom Summit, CPAC, or the other conservative events where he'd materialized on the schedules. To make a point about government red tape, Trump entered a digression about low-flow water faucets. "You buy faucets today, no water comes out," he said. 
To make his other points, Trump spoke generally and hyperbolically about a country that had stopped winning, because it was led by losers. "When was the last time you heard that our country won something? We beat Mexico in this; we beat Brazil in this. We never win anything! We don't have the people; we don't have the capability. Honestly, politicians—other than the ones in this room—are all talk and no action." The laugh line did its job, and he continued. "We don't need people in Washington who sign executive orders because they can't get people in a room and negotiate. We got people that, frankly, I don't know if they're good people or bad people. They're not leaders."
Trump never mentioned the topic that had come to define his 2011 exploration of a run—the citizenship of Barack Obama. In a Q&A, no one raised the question. Trump really had changed his posture since 2011, when, for a brief period, he led a few polls of Republican voter preference. Now, as someone with all the advantages of celebrity but none of the potency of a frontrunner, he stuck to policy, in that he delivered staccato sentences about what he could achieve if he knocked heads together.
"They talk about the Middle East, they talk about other countries—the easiest way is just to come across our Southern border," he said. "And who is better at building than Trump?" He never actually completed the thought—that he would build a wall on the border—but a room of conservatives seemed to get it. 
Twenty-eight years ago and 90 minutes down the road, Donald Trump made his first political trip to New Hampshire. He never ended up running for president; his remarks, as reported by the New York Times, were mostly about what was then nervousness about Japan's growing economy.
"We should have these countries that are ripping us off pay off the $200 billion deficit," he said. "There is a way you can ask them and they will give it, if you have the right person asking."
The Amherst house party was striking in its similarity. Trump brought every issue he could back to the trade deficit, and currency wars. "I wish you guys made some television sets," he told his audience, "but if you didn't, you couldn't compete, because they play funny games." The proverbial "they" were Korean and Chinese companies benefiting from currency manipulation. If he got to the table with those people, he could, he promised, end this right away—and end it so decisively that he'd be "the only Republican who won't cut Social Security and Medicare."
"I'll make this county so rich you won't have to cut them," Trump said, to a general nodding of heads.
That lack of specificity and surplus of confidence shone through in every answer to one of the crowd's questions. Bobby Graham, a Keene State student who asked what Trump would do to relieve crushing student loan debt, was reminded that Trump "went to the Wharton School of Finance," and assured that "we have to help young people." One woman who asked how Trump might tackle ISIS was studiously offered nothing.
"How we gonna deal with ISIS?" asked Trump. "That's a great question. You know what the answer is? I don't wanna tell you! If I run, and I get elected, the last thing I want to tell you is what I'm gonna do with ISIS. Look at Obama. Two weeks ago, he says we're gonna go here, and we're gonna be bombing here, and doing this, and dropping soldiers there, and I thought to myself: General McArthur and General Patton, they're spinning in their graves."
Trump spoke for slightly less than 29 minutes. When he asked for a final question—"a good question, a beauty"—he got a yes-or-no about his support of the Second Amendment. "Big, big, Second Amendment," said Trump. "I carry a pistol." Shortly thereafter, flanked by security, he was moving back through the crowd and shaking hands.
"You gonna vote for Trump?" he asked one voter.
"You gonna vote for Trump?" he asked a state representative.
He got head nods but did not stick around for longer answers. After a short interview with a radio reporter, Trump walked over to, then through, a line of a dozen journalists and cameramen standing between him and his SUV. The only question he took was about whether he enjoyed his visit.
"We had a great crowd," said Trump. "We had a great time. They're incredible people. We're gonna make this country great again."
Before it's here, it's on the Bloomberg Terminal.
LEARN MORE