Will Kamala Harris Block an Initiative Proposal that Legalizes Killing Homosexuals?
The "Sodomite Suppression Act" calls for gays and lesbians in California to be put to death by "bullets to the head."
by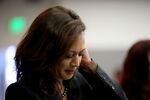 California Attorney General Kamala Harris is facing a legal paradox. 
On the one hand, she must uphold the state law that allows residents to pay $200 and submit initiatives for their possible consideration by the voters. On the other, the one being proposed by Huntington Beach lawyer Matt McLaughlin, which seeks to legalize the killing of homosexuals, is so odious that it makes a mockery of the law itself. 
Dubbed "The Sodomite Suppression Act," McLaughlin's proposed initiative would classify homosexuality as "a monstrous evil that Almighty God," and allows "that any person who willingly touches another person of the same gender for purposes of sexual gratification be put to death by bullets to the head or by any other convenient method." 
The measure, which was filed with the attorney general's office on Feb. 26, is now slated to proceed to the signature-gathering stage, the Sacramento Bee reported, and therein lies the rub for Harris, the current favorite to replace Senate Democrat Barbara Boxer. By law, Harris's office must now write the title and description for McLaughlin's proposal. 
Suffice it to say that the proposal has little chance of gathering the signatures required to actually make it to the California ballot, much less of a chance of being passed, and and even tougher prospect of not being immediately struck down as unconstitutional by the courts. 
Almost 4,000 people have already signed a Change.org petition seeking to have McLaughlin disbarred. "Advocating the murder of innocent citizens clearly demonstrates moral turpitude and abuse of the law," the petition states. 
Allowing the measure to run its course, however, is all part of adhering to the principles of free speech, and is, for better or worse, part of Harris' current job.
In case you're wondering, this is not McLaughlin's first attempt at changing California law. In 2004, he unsuccessfully tried to get an initiative on the ballot that would have had the King James Bible included as a literature textbook in public schools, SFGate reported. 
Before it's here, it's on the Bloomberg Terminal.
LEARN MORE