Scott Walker Pitches Himself as Ordinary Man Ready to Do Something Extraordinary
One thing is screwing up the message: Regular guys don't have rope lines to keep reporters at a distance.
by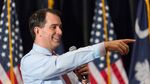 CHARLESTON, S.C.—It's an anecdote Wisconsin Governor Scott Walker almost always ends his speeches with lately.
The story starts with him talking about his family's hardscrabble upbringing and how they didn't have enough money to take him as a child to places like New York, Washington or Philadelphia. That was a bummer, Walker says, because he was a history junkie who longed to connect with the "super heroes" who built the Republic on the East Coast.
So when a governor's conference took Walker to Philadelphia in September 2011, he says he snuck off one morning to visit Independence Hall and the Liberty Bell for the first time.
As he looked at the furniture and other surroundings, Walker says he thought to himself that the founders weren't super at all. They were just regular guys. This is where the story starts to tie into Walker's goal of becoming the next president.
"These were ordinary people. Ordinary people, who did something quite extraordinary," Walker told a gathering of several hundred Republicans here Friday afternoon.
A big part of his pitch—and one of the top reasons cited by Walker-leaning South Carolina Republicans interviewed—is that he's a regular guy who shops at Kohl's, tries to maximize coupons and rakes his own leaves, even if people who don't like him occasionally drive by and flip him the bird.
"These were people who risked their lives for the freedoms we hold dear today," Walker told a hushed hotel ballroom audience in Charleston. "What makes America amazing is that then all throughout this history, there have been men and women of courage who have been willing to stand up and think more about the future of their children and their grandchildren than they thought about their own futures."
Walker told the same story the night before in Greenville, where he ended with what is essentially a call to action for his own campaign. "This is one of those moments in American history," he said. "This is the time when we can stand up and tell future generations what we did, what we did together, to make America great again."
One hiccup in Walker selling himself as a regular guy is that regular guys don't have rope lines to keep reporters at a distance. During three public events on Thursday and Friday, he never was within earshot of national reporters following him.
That may have had something to do with a flap following the resignation this week of a digital strategist for his political committee who vanished from his staff after she made comments on Twitter disparaging the Iowa caucuses.
Wisconsin-based reporters say they've been surprised how little Walker has talked to the mainstream media since his political stock started to rise nationally in late January. The governor, traditionally, has made himself available to reporters after events in his home state.
As Walker crisscrossed South Carolina on Thursday and Friday, he never took questions in public from prospective voters, either. There were no town-hall style events, and when he met one-on-one with voters the media were kept from that room.
He did do some regular guy stuff while in the state, including stopping at a Harley Davidson dealership in Greenville. The governor concludes his South Carolina travels with a closed-to-the-media appearance in Florence Friday evening at a fundraiser for a National Rifle Association-aligned group.
"We'll be back many more times in the future," Walker said in Charleston. "We feel good about South Carolina." 
Before it's here, it's on the Bloomberg Terminal.
LEARN MORE