Boehner to Visit Israel After Netanyahu's Re-Election
Kathleen Miller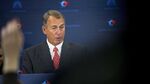 U.S. House Speaker John Boehner, who invited Israeli Prime Minister Benjamin Netanyahu to speak to Congress this month, will visit Israel in the coming weeks, his spokesman said Friday.
Boehner "looks forward to visiting the country, discussing our shared priorities for peace and security in the region, and further strengthening the bond between the United States and Israel," aide Kevin Smith said in an e-mail. The visit will occur during the House of Representatives' next break, which begins March 27.
The trip will come about four weeks after Netanyahu spoke to a joint meeting of Congress on March 3 at Boehner's invitation, which was issued without consulting the White House. Netanyahu asked lawmakers to oppose a nuclear deal with Iran being negotiated by the U.S. and five other world powers.
The prime minister warned that a U.S. agreement with Iran would backfire and leave the Islamic Republic with a "vast nuclear" program.
Boehner last visited Israel in 2008, Smith said. The upcoming visit was planned months ago, he said. He declined to say whether Boehner would meet with Netanyahu during the trip.
President Barack Obama declined to meet with Netanyahu during his visit to the U.S., citing the proximity of Israel's March 17 elections, in which Netanyahu won re-election.
Committee Vote
White House press secretary Josh Earnest said Friday it's not unusual for members of Congress to travel to Israel and had no further comment on Boehner's trip.
The talks with Iran have a goal of agreeing on a framework by the end of March and a detailed agreement by the end of June. Iran would freeze its nuclear program in exchange for sanctions relief.
The U.S. Senate Foreign Relations Committee decided this week to wait until April 14 to consider legislation allowing Congress to review and approve any final agreement with Iran over its nuclear program.
Netanyahu said Thursday he remains committed to Palestinian statehood if circumstances improve, pulling back from comments he made during his campaign that he wouldn't agree to the establishment of a Palestinian state if he won another term.
Netanyahu's latest comments failed to close a widening rift with Obama's administration. White House press secretary Josh Earnest delivered a fresh rebuke of the Israeli leader along with a warning that the U.S. is reconsidering use of its veto on the United Nations Security Council on behalf of Israel.
Congratulatory Call
Obama called Netanyahu Thursday to offer congratulations on his election success. During the call, the president told the Israeli leader the U.S. would reassess its options in light of Netanyahu's comments on a two-state solution, according to a White House official who requested anonymity to discuss the private conversation.
UN Secretary-General Ban Ki-moon congratulated Netanyahu Friday on his election victory in a phone call and urged the prime minister to renew Israel's commitment to a two-state solution to the Israeli-Palestinian conflict, Ban's office said in an e-mailed statement.
Before it's here, it's on the Bloomberg Terminal.
LEARN MORE