Top Republican National Committee Donors to Get a Look at Presidential Hopefuls
More than 200 of the GOP's top money-raisers will meet with a slate of potential presidential candidates this weekend.
by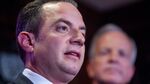 Next stop in the invisible primary: Boca Raton, Fla. At least seven Republican presidential hopefuls will spend the weekend with about 200 of the party's top donors at the Boca Raton Resort & Club for the Republican National Committee's national finance spring retreat. It begins Friday.
Attendees will include the upper echelons of Republican Party money movers. At the top of the pack, according to a GOP source, are "RNC Trust" members, who have committed to giving $334,000—the most allowed under the law. That's about 10 times the previous legal limit. Congress last year cleared the way for the additional party money by approving new streams of donor cash for special party accounts for the national nominating convention, legal challenges, and building projects. 
RNC donors will be able to rub elbows with former Florida Governor Jeb Bush, Florida Senator Marco Rubio, Wisconsin Governor Scott Walker, Louisiana Governor Bobby Jindal, former New York Governor George Pataki, former Texas Governor Rick Perry, and former Pennsylvania Senator Rick Santorum. All are attending as "special guests," according to the program, obtained by Bloomberg Politics. New Jersey Governor Chris Christie is also expected to be there. Texas Senator Ted Cruz is not listed as a guest. Kentucky Senator Rand Paul, who is in New Hampshire through Saturday, won't be there. 
The program names as donor attendees some of the party's fundraising stalwarts, including Sam Fox of St. Louis, Ron Kaufman of Boston, Ray Washburne of Dallas, Ed Cox of New York, and Harold Hamm of Oklahoma.
The retreat is yet another way for presidential hopefuls to connect with donors, although the party itself stays out of the primary contest. Some of them–including Washburne, who is helping Christie–have already chosen a preferred presidential candidate. Many haven't.
The weekend schedule is heavy with panels and discussions on political topics such as messaging, winning over voters, digital strategy, and ads. GOP Chairman Reince Priebus will give a report, and Republican pollster Frank Luntz is making a presentation. The lone policy discussion on the schedule is an hourlong panel on foreign policy and armed services. 
Foreign affairs have leaped to prominence at this early stage of the presidential race. Earlier this month, Arkansas Senator Tom Cotton and 46 Republican Senate colleagues wrote an open letter to Iranian leaders warning that a future U.S. Congress could undo any deal that the Obama administration is currently trying to broker. Presidential candidates have been weighing in on that, as well as on how best to confront the Islamic State terror group.
The 2016 money chase for what could be a crowded and costly Republican primary has taken hopefuls to places like Des Moines, Iowa, for an agriculture summit hosted by a major donor; Sea Island, Ga., for a gathering of the American Enterprise Institute's top givers; and Palm Springs, Calif., to meet with Koch network. 
Next month, several potential candidates, including Perry and Cruz, jet to Las Vegas to meet megadonor Sheldon Adelson and other major donors for a conference of the Republican Jewish Coalition.
—Mark Halperin contributed to this report.
Before it's here, it's on the Bloomberg Terminal.
LEARN MORE