Republican Attorneys General Sue Obama, Ask Donors for Some Thanks
The invisible and critical races of 2015.
by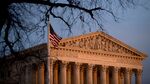 After 2014's elections, Republicans finally controlled a bare majority of state attorneys general offices—27 of them. In states such as Nevada, Colorado, Michigan, and Wisconsin, the GOP's successes shrunk the bench of electable Democratic candidates and put Republicans in strong positions for future statewide runs. In all the states, the Republican AG offices are more likely to challenge the Obama administration and grind down its executive orders or regulations.
One exception; the ongoing lawsuits against the Affordable Care Act's subsidies. As Abby Goodnough pointed out this year, relatively few Republican AGs have joined the King or Halbig lawsuits, which would deny tax credits to people in states that did not create their own insurance exchanges. Only seven state AGs have filed briefs asking for the subsidies to be struck down. 
The Republican Attorneys General Association is grateful for their work. In fundraising e-mails sent to various conservative donors, it's showing potential donors a credulous story from Fred Barnes, all about how smart money and campaigning created a beachhead against Obama. This started on March 11, with an e-mail attributed to Florida Attorney General Pam Bondi, one of the few who joined the subsidies lawsuit.
"Republican Attorneys General are holding President Obama's feet to the fire," wrote Bondi. "Read how below and join the fight today!"
On Friday, Oklahoma Attorney General Scott Pruitt–generally acknowledged as the field marshal of the subsidies lawsuit–blasted out the piece again.
I hope you saw last week's article from Fred Barnes of The Weekly Standard… I'm forwarding it to you again today.

Why? Because the work I, and 26 other Republican attorneys general are doing is what's keeping President Obama from implementing his illegal agenda.

Please, take a moment to read this article highlighting our important work, and join us in our fight to defend the Constitution.

Best, Scott Pruitt
Oklahoma Attorney General
Democrats have their own AGs association; some Democratic donors are trying to build up the State Innovation Exchange, or SiX, as a catch-up to Republican dominance in state races. In 2015, the Democrats are trying to hold onto AG offices in Kentucky and Mississippi, which they have held, respectively, since World War II and since Reconstruction.
In both states, they're confident that the subsidies lawsuit is unpopular; in Kentucky, their attorney general-turned-gubernatorial candidate has sued the Obama administration. 
Before it's here, it's on the Bloomberg Terminal.
LEARN MORE