Rand Paul to Hillary Clinton: Return Money From 'Worst Abusers of Women's Rights in the World'
He attacks her from the left, again, targeting foreign donations to the Clinton Foundation.
by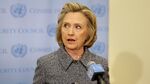 MANCHESTER, N.H.—Friday night, at a speech for the Carroll County Republican Party, Kentucky Senator Rand Paul will call on former Secretary of State Hillary Clinton to return any money given to her family foundation by countries that "abuse women."
"There has been much talk of a war on women," Paul will say, according to a short excerpt provided to reporters. "There is indeed a war on women ...  in Saudi Arabia. When Hillary Clinton claims she will support women's rights, ask her why she accepted millions of dollars from..."
The excerpt trails off, because Paul intends to list oppressive countries that have made news with their donations to the Clinton Foundation—or the donations of companies with national ties to those countries. In Manchester, after finishing a town hall meeting with employees of local cloud computing company Dyn, Paul sat for a series of radio, print, and TV interviews where he drove home the new line about Clinton.
"She will be one of the first women that has a chance at the White House and wants to run as a champion of women's rights, yet she's accepted money from countries that are some of the worst abusers of women's rights in the world," Paul told Boston Herald reporter Chris Cassidy. "There is a war on women in these countries and I think it's inexcusable that she took the money in the first place, and I'm calling on her today to return the money."
Paul has consistently criticized Clinton's record as secretary of state, and done so as a realist. When talking about the 2012 attacks in Benghazi, Libya, he tends to refer to the "kinetic action" that removed Libya's old government as "Hillary's war." But the attack on Clinton's human rights record goes after a resume item that predates her time at state. This month, when Clinton addressed the roiling scandal over her use of a personal e-mail account, she did so at the United Nations—where most networks cut away from the speech she was there to give, commemorating a 1995 address she gave, in Beijing, about women's rights.
Reached for comment, Clinton spokesman Nick Merrill replied quickly: "Thanks but no thanks." But DNC national press secretary Holly Shulman had this to say: "If Rand Paul suddenly cares about women's rights, then he needs to support equal pay, support the Violence Against Women Act, and support access to women's health services. Until then, we don't want to hear it."  
Before it's here, it's on the Bloomberg Terminal.
LEARN MORE