Rand Paul: I Signed Cotton Letter to Help Obama 'Negotiate from a Position of Strength'
He tries to convince realists that he didn't bail on them.
by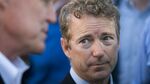 MANCHESTER, N.H.—During a town-hall meeting with employees of a cloud computing company, Kentucky senator and potential 2016 presidential candidate Rand Paul said he signed Arkansas Senator Tom Cotton's letter to Iran's leaders to help the Obama administration craft a better deal.
"We wrote laws putting sanctions on Iran," Paul said. "My goal in supporting those was to get them to the negotiating table. I don't want to push them away. I have not favored more sanctions during the negotiations–I want the negotiations to succeed."
Dan Brian, a technical writer at Dyn, looked skeptically at Paul as the senator answered his question. "I want the president to negotiate from a position of strength," said Paul. "I want him to be able to go to the Iranians and say, 'Congress is going to have to vote on this, because Congress put these sanctions in place. To remove them, Congress will have to vote on it, so you will have to give up more.'"
When the town hall ended, Brian went back to work unsatisfied. "I found the answer to be kind of ridiculous," he said. "The Senate, taking on foreign policy like that, seemed to be out of its jurisdiction. For him to say that it put the president in a position of strength–I thought that was wrong."
That's what a number of libertarians had been saying about Paul's signature; Paul's consistently said that his move was a message to Iran that informed them about "hardliners" in his own Senate without blowing up the negotiations. That was his message during his first New Hampshire trip since the letter–and possibly his last trip to the primary state before announcing a presidential bid on April 7.
Before it's here, it's on the Bloomberg Terminal.
LEARN MORE