Obama Blames Republican 'Stubbornness' for Delayed Vote on Loretta Lynch
Justin Sink and Kathleen Miller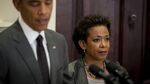 President Barack Obama blamed a dysfunctional Senate and "stubbornness on the part of Republicans" for the stymied confirmation of Loretta Lynch as U.S. attorney general.
"You don't hold attorney general nominees hostage for other issues," Obama told The Huffington Post in excerpts released on Friday. "This is our top law enforcement officer. Nobody denies that she's well-qualified. We need to go ahead and get her done."
Lynch's confirmation vote in the U.S. Senate has been stalled by a partisan fight over abortion language in an anti-human trafficking bill. Democrats oppose adding a measure restricting abortion funding and Senate Majority Leader Mitch McConnell, a Kentucky Republican, has said he would delay a vote on Lynch until the differences are resolved.
That's led to increasingly bitter accusations between the White House and Congress and between Republicans and Democrats in the Senate.
White House press secretary Josh Earnest earlier this week said the prolonged process raised questions about McConnell's ability to "run the Senate in an effective fashion." Some of Lynch's backers have suggested a racial component to the delay. Senator Dick Durbin of Illinois, a Democrat, said in a floor speech Wednesday that Lynch "is being asked to sit on the back of the bus when it comes to Senate calendar."
Lynch, the top federal prosecutor in Brooklyn, would be the first black woman to serve as the nation's top law enforcement official.
Apology Demanded
Republicans deny race is a factor in the delay, and Senator John McCain of Arizona called on Durbin to apologize.
"Such inflammatory rhetoric has no place in this body and serves no purpose other than to further divide us," McCain told the Senate chamber on Thursday.
Asked whether race plays a role in the hold-up, Obama said he didn't "know about that."
"What I do know is that she is eminently qualified. Nobody denies it," Obama said.
Attorney General Eric Holder, who has pledged to stay on the job until Lynch is confirmed, told MSNBC on Friday that "there is probaby not a huge racial component to this."
"You've got this person who was qualified, apparently unopposed by their witnesses, who have negative feelings about the sitting attorney general who was going to stay here, committed to the work that I'm doing, and yet they have held her up for reasons that make, from my perspective, little or no sense," Holder said.
Giuliani Support
Some Republicans are opposed to or undecided about whether to support Lynch and have questioned her independence and support of Obama's immigration policies.
Former New York City Mayor Rudy Giuliani, a Republican who recently questioned Obama's love of his country, rejected that premise in a conference call on Friday, saying the confirmation process has been "tremendously distorted."
"I know her reputation as a U.S. attorney," Giuliani, who also is a former federal prosecutor, said on a conference call with reporters. "She is in the highest traditions of a U.S. attorney, she makes decisions on the merits."
The Senate Judiciary Committee on a 12-8 vote Feb. 26 approved her nomination, with three Republicans joining all nine of the committee's Democrats in favor of Lynch. Maine Republican Senator Susan Collins has also said she'll support Lynch. That means Lynch's proponents need at least one more Republican -- or Vice President Joe Biden to break a tie -- if all 46 Democrats, as expected, back Lynch.
Before it's here, it's on the Bloomberg Terminal.
LEARN MORE