Bobby Jindal's Budget Doesn't Fund Presidential Primary
Louisiana's budget hole presents another problem for the 2016 hopeful.
by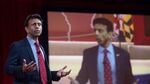 Louisiana Governor Bobby Jindal is learning the hard way that presidential primaries aren't free. As of now, his state hasn't budgeted for one. 
To fill a $1.6 billion budget shortfall, Jindal proposed hundred of millions in spending cuts in a budget plan earlier this month, slashing the budgets of several offices. Secretary of State Tom Schedler was one of several state officials who testified to the House Appropriations Committee on Wednesday that the budget underfunded his department and was lacking $3.4 million for a presidential primary next spring.
"I have no funding for elections past the fall elections," Schedler told lawmakers Wednesday, later adding, "I want to hold a presidential preference primary if you want to pay for it." 
Jindal's office and the Department of State lay the blame with the other party. According to the Washington Post, Jindal's office said they gave Schedler's office a "target savings number" to hit, and that cuts are at his discretion. Schedler's spokeswoman said the Department of State informed the governor that primaries would be one of the first objectives to go if the budget was cut.
And so, the governor's office has been aware of the primary election shortfall for weeks, and the gap is only just now becoming an issue. Officials are now working with the legislature to figure out how to come up with the extra funds, while Democrats are using the story to call attention to Jindal's low placement in recent presidential polls, according to Reuters.
If Louisiana can't afford a primary, it might set up a party-run caucus or convention, which might work in Jindal's favor. "He wants to convince his own core group of people to rig it for him so he doesn't come out looking so bad," Stephen Handwerk, executive director of the Louisiana State Democratic Party, told Reuters.
It's just as likely that Jindal was hoping the Department of State would cut funds somewhere a little less relevant to his political ambitions.
Before it's here, it's on the Bloomberg Terminal.
LEARN MORE