Lindsey Graham: If UN Bypasses Congress on Iran Sanctions, Don't Fund It
The senator and possible presidential candidate takes aim at a favorite GOP target.
by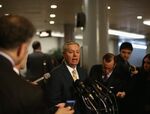 President Obama's administration isn't the only entity subject to budget threats from Congress. Senator Lindsey Graham said on Thursday night that if the United Nations Security Council agrees to lift its Iran sanctions before Congress approves a nuclear deal, it might risk the funding it receives from the U.S.
"Twenty-two percent of the funding for the United Nations comes from the American taxpayer and I'm in charge of that account," the South Carolina Republican said during an interview with Fox News' On the Record. "I'm not going to allow the United Nations to be used as a way to get around the United States Congress for a deal that affects the very existence of Israel and our own national security."
Congress is currently working on a bill that would require its approval of any nuclear agreement with Iran. Graham argued that if the UN lifted its sanctions, that would "marginalize" Congress and lead to a "violent reaction" against the UN, as well as potential cuts.
The U.S. is expected to pay $654 million to the UN this year and Graham is the chairman of the Senate Appropriations Committee's subcommittee on State, Foreign Operations and Related Programs. He said he would add a suspension of funding to the UN into the funding bills he manages if the UN lifts its sanctions before Congress approves a deal.
"If the UN did something that provocative, lifted the sanctions before we ever got a chance to look at it in Congress … absolutely I would suspend funding the United Nations, because I don't think your money should go to an organization that irresponsible," he said. 
This wouldn't be the first time Congress tried to use American funds as leverage over the U.N. In 2011 House Republicans introduced a bill that would allow countries to set their own contributions and only allow U.S. funds to go towards causes approved by Congress. Earlier this month, Graham told the audience at the American Israel Public Affairs Committee that he would also cut UN funds if the UN marginalized Israel.
At the same time, Graham was confident that Senator Bob Corker's bill, which would require congressional approval of a nuclear agreement, would pass. Obama has promised to veto the bill, but Graham believes Congress has the votes to override him.
"I think we'll have enough Democrats that will say the following: Mr. President, you negotiate the deal, you are the commander-in-chief, and you are the president, but when it comes to lifting congressional sanctions that we've created with a hundred to nothing vote we are going to have a say before you lift those congressional sanctions," Graham said.
Before it's here, it's on the Bloomberg Terminal.
LEARN MORE