Scott Walker Plays Up Baptist Roots as He Starts South Carolina Swing
The Wisconsin governor has visited the first three presidential nominating states in the past month.
by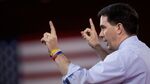 COLUMBIA, S.C. –Scott Walker had been speaking for less than three minutes Thursday afternoon before he mentioned that he's the "son of a Baptist preacher."
It's a standard line for the Wisconsin governor, but it was near the top of his remarks as he made his first stop on a two-day swing through South Carolina, a state that's filled with Baptists and will also host the first southern primary in in 11 months.
Walker's trip, which will include plenty of barbecue and an appearance at a National Rifle Association fundraising event, is his first to the state since 2013 and comes as he's trying to build on the momentum he's gained during the past two months for a likely Republican presidential bid.
Speaking at a Marriott Hotel in Columbia, Walker talked about how strongly he's moved when voters approach him and tell him they're praying for him. "Don't underestimate the value of prayer," said Walker, who now attends a non-denominational evangelical church in Wisconsin.
Walker also stressed his fundraising potential and the "almost 300,000" donors from all 50 states he's amassed during the past three years. "Only Mitt Romney has more donors on the Republican side than that, and, obviously, he's the former nominee," he told about 150 people gathered for his speech.
The reference is likely in response to the fundraising prowess of former Florida Governor Jeb Bush, who joins Walker atop most early state and national polls.
Walker is positioning himself as a candidate who can appeal to social conservatives as well as establishment Republicans.  He sells himself as a proven leader who has won three elections in four years in a state that a Republican presidential candidate hasn't carried since 1984.
In what has become a standard line in Walker's speeches, he told the Columbia audience that he "didn't inherit fame or fortune," a reference considered by some to be directed toward Bush.
"I think one of the biggest differences between a potential Hillary Clinton campaign and some of the others that we could offer–if we chose to get in this election–would be the simple fact that I think Hillary Clinton and others like her embody Washington," he said.
Before an evening event in Greenville, Walker met with South Carolina Governor Nikki Haley and Republican lawmakers at the statehouse. South Carolina follows Iowa and New Hampshire in the nomination calendar lineup; Walker has visited all three states in the past month.
As he has in Iowa and New Hampshire, Walker received strong applause when he talked tough about combating Islamic extremism.
"We need a leader who will look the American people in the eye and say we will do whatever it takes– whatever it takes–to makes sure that radical Islamic terrorism does not wash up on American soil," he said. "I'd rather take the fight to them."
Reporters were kept at a distance from Walker, the day after a digital strategist for his political committee resigned following criticism of remarks she made on Twitter disparaging the Iowa caucuses.
"I'm very impressed," said Sandra Bryan, a retired banker who attended Walker's event. "He's at the top of my list. I like what he's done for Wisconsin."
Before it's here, it's on the Bloomberg Terminal.
LEARN MORE