The Surprising Middle Age of Monica Lewinsky
There is life post-punchline.
by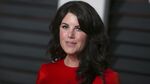 If you Google Monica Lewinsky's name, you see a list of related figures "people also search for": in order, Bill Clinton, Hillary Clinton, Chelsea Clinton, Linda Tripp, Paula Jones. There are seven photos: first, foremost, and biggest, a portrait of a young woman, smiling bright with bangs and in pearls. It is a picture singed into the national brain, with a taper of sizzling schadenfreude. One of the top search results is an article —well, listicle—from Time magazine, called "Top 10 Mistresses." But above that piece, now, is a story called "Monica Lewinsky on the Culture of Humiliation," by Monica Lewinsky herself. Printed in Vanity Fair last June, the essay was trenchant and moving—not, up to that point, two words often associated with her.  It was nominated for a National Magazine award.
Thursday afternoon in Vancouver, Lewinsky continued her unlikely transformation, with a speech at a TED Conference. The theme was "Truth and Dare," the session "Just and Unjust," the speech called "The Price of Shame." Her subject, in its way, was the tension laid bare on that Google search results page. Who gets to author this woman's story?
Watching her at TED, one thought was that her abundant mental health assuaged a measure of national guilt at the joyful shame festival that was the scandal. Lewinsky took the stage, in a blue button-down, and took a breath. "You're looking at a woman who was publicly silent for a decade," she said. "Obviously that's changed—but only recently."
It's been an unusual ride, she said. Lewinsky is 41, and said she's in about as many rap songs: a stand-in, a signifier. You can imagine the lyrics. She told the TED audience at a Forbes Under 30 summit, where she gave what she called "my first public talk," that a 27-year-old hit on her by telling her he could make her feel 22 again. "I'm probably the only person over 40 who does not want to be 22 again," she ribbed.
Then she told the story we all know, but she told it this way: "At the age of 22, I fell in love with my boss." She spoke of that "improbable romance," and the legal and political maelstrom that followed. Preacher-like, she asked the audience if a single one among them hadn't made a mistake at 22. (TED should've blasted Taylor Swift.) "And at the age of 24, I learned the devastating consequences."
Lewinsky pointed out that, just a few years before she became internationally famous—the story broke in January 1998—news came from only three places: newspaper, radio, and television. But this scandal, she said, "was brought to you by the digital revolution." Lewinsky called it "the first time the traditional news was usurped by the Internet for a major news story." She said, "Overnight, I went from being a completely private figure to a publicly humiliated one worldwide." A rush judgment enabled by technology, which led to "virtual stone throwers."
For a time, Lewinsky partly embraced her punch-line status. She, gamely, appeared on "Saturday Night Live" in 1999. She did Jenny Craig commercials, she hosted a reality TV dating show. She knitted. And she sold handbags at Bendel's—some success! Her company was called The Real Monica Inc. (And who could forget her appearance on "The Tom Green Show"?) But then she seemed to sink into the where-are-they-now status reserved for the inadvertently famous. 
At TED, she spoke with humor about her past—regretting that beret—and with an evident measure of nervousness. "Granted," she acknowledged, her public shaming came "before social media." But the attention received was unprecedented. She was branded, she said, with words she spoke as slurs: "Tramp. Tart. Slut. Bimbo." 
"And of course, 'that woman.'"
Lewinsky took a beat. "When this happened to me 17 years ago, there was no name for it. Now, we call it cyber-bullying and online harassment." She pivoted to Tyler Clementi, the 18-year-old Rutgers student who was electronically spied on by his roommate. After he learned that he had become an object of ridicule online, Clementi jumped off the George Washington Bridge.
Several years ago, Lewinsky got a master's degree in social psychology at the London School of Economics. She wrote her thesis about the effects of pre-trial publicity on jury selection. Today, again off American terrain, she found a way forward—using, as with her thesis—her hard-won experience.
What does Tyler Clementi's death have to do with her? "My mom was beside herself about what happened to Tyler and his family," Lewinsky said. "She was gutted with pain in a way that I really didn't understand. Then I realized she was reliving 1998." She told the audience that her mother made her shower with the bathroom door open, for fear of what she might do if left alone.
Here, Lewinsky seemed on the verge of feeling overcome. There's still emotion there, that's clear. But she started up again. The tragedy of Clementi's suicide, she said, helped her "recontextualize my experiences."
Lewinsky acknowledged the glories of the Internet—potential for "joining lost siblings, saving lives"—and in the same breath denounced the slut-shaming, the humiliation, all, she said, "amplified, uncontained." Young people, she continued, "are not developmentally equipped to handle… the public stockade." (Not that anyone is.) "There is a very personal price to public humiliation, and the growth of the Internet has jacked up that price."
She mentioned Jennifer Lawrence, she mentioned the SONY hacks, she even mentioned a number of academics and social theorists. She said, "A marketplace has emerged where public humiliation is a commodity, and shame is an industry."
"How is the money made? Clicks."
Lewinsky's talk crested here, the moment TED talks are made of: life story, breakthrough brilliance. She spoke of cultural revolution. But she was righteous. "Public shaming as a blood sport has to stop," she said. "We need to return to a long held value of compassion and empathy."
Lewinsky cited Brené Brown, one of the wise voices who, maybe just incidentally, spoke to a field of female corporate power before Hillary Clinton took the stage at Lead On: Watermark's Silicon Valley Conference for Women. "Shame can't survive empathy," Lewinsky quoted, then repeated the words, with emphasis. "Shame cannot survive empathy."
She called on her audience, and all those watching—the world, sooner or later—to be upstanders, not bystanders. "We can post a positive comment, or report negativity," she said. She said it actually helps. "We talk a lot about our right to freedom of expression, but we need to talk more about our responsibility to freedom of expression. We all want to be heard."
"The Internet is the superhighway for the id," Lewinsky said, fusing Sigmund Freud and Marshall McLuhan. We need, she said, to "consume news with compassion, and click with compassion."
In January, Lewinsky's courageous Vanity Fair article was nominated for a National Magazine award. (She lost, but she got to meet Roger Angell, the 94-year-old seer of baseball and much more. Lewinsky asked to meet him, actually; one imagines that his portrait of aging—of what intimacy, what love, has to do with life's meaning—resonated.)
In the past few months, she's been a gal about town, looking smashing in bright colors at Vanity Fair's Oscars party, in sleek black at a Rachel Comey fashion show, and, posing with her pal Alan Cummings at the HBO's Golden Globes party (and at his book launch, too). She's hit screenings in London, documentary awards in Hollywood, and various events and galas elsewhere. Why not?
Lewinsky, in her way, is something of an American icon. But it was away from our, and her, national stage that she confronted a question on many minds: Why is she speaking now?
She acknowledged the question came to her often. (The clear insinuation is that she may have chosen this moment to return to the public stage because another Clinton—who, the wry will remark, spoke simultaneously in Atlantic City at a summer camp conference—is ready to launch a campaign.) 
But she pushed that logic away.
"Because it's time," Lewinsky said. "Time to stop living a life of opprobrium. And time to take back my narrative."
"Anyone who is suffering from shame and public humiliation," she said, "you can survive it."
"You can insist on a different ending to your story."
Finally, she's writing it.
Before it's here, it's on the Bloomberg Terminal.
LEARN MORE