Why a Top Louisiana Republican Skipped Selma
House Majority Whip Steve Scalise attended an "off-the-record" retreat in Georgia.
by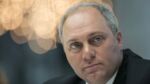 U.S. Representative Steve Scalise of Louisiana, the No. 3 House Republican who has been criticized in the past by civil rights leaders, stayed at a posh Georgia resort with his wife earlier this month rather than attend events in Alabama marking the 50th anniversary of the Selma civil rights march.
A newly filed congressional "post-travel" disclosure dated Wednesday shows Scalise skipped the Selma event to attend a Republican "off-the-record" retreat hosted in Sea Island, Ga. The event was hosted by the American Enterprise Institute from March 5-8.
The filing was first reported Thursday by the for-profit congressional transparency website, LegiStorm. A copy was obtained by Bloomberg News.
According to the document, AEI paid $2,955 for expenses for Scalise and his wife, Jennifer, including $1,440 for lodging.
Scalise earlier this year came under criticism after acknowledging he'd spoken to a white-supremicist group in 2002 while he was still a state representative.
The Congressional Black Caucus had urged him to attend the Selma events. The only top House Republican leader to do so was Majority Leader Kevin McCarthy of California.
Asked about the filing Scalise spokesman T.J. Tatum said in a statement to Bloomberg, "Due to a prior commitment Scalise was unable to attend this year. He has accepted this invitation and looks forward to joining civil rights leaders and his colleagues in Selma next year."
Representative Michael Burgess of Texas is another lawmaker who, so far, has filed a disclosure that he attended the event. Other lawmakers from both parties did go to Selma for events that included crossing the Edmund Pettus Bridge, where Alabama state troopers converged on protesters on March 7, 1965.
On his disclosure form, Scalise said he would be "speaking at policy sessions and attending other events at the forum that will impact policy and decision making in Congress."
Here is a copy of the form, and what appears to be an agenda for the event attached to it.
CORRECTION: This story was updated to fix a mistake in the title. The congressman is from Louisiana, not Georgia.
Before it's here, it's on the Bloomberg Terminal.
LEARN MORE