Pelosi Says Republicans Will Keep Investigating Clinton, 'Be It Her Hair or Her E-Mails'
The top House Democrat says Republicans are making a political "mistake" in their pursuit of the former secretary of state's messages.
by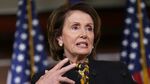 The top Democrat in the U.S. House on Thursday said she believes Republicans are making a "mistake" politically in their pursuit of former Secretary of State Hillary Clinton's e-mails.
Nancy Pelosi of California said that more than any concern that Speaker John Boehner and other Republicans are asking that Clinton turn over the e-mails, at least to a third party, she is concerned this "is about a partisan investigation" and it "seems to me to be a waste of taxpayer money."
"I think we are just going to see the ongoing attempt to investigate Hillary Clinton, be it her hair or her e-mails," said Pelosi during a Capitol news conference. 
"I think that Hillary Clinton should not be treated any differently than any other secretary of state," she also said.
Before it's here, it's on the Bloomberg Terminal.
LEARN MORE