New Hampshire Focus Groups Reveal Possible Problems for Bush, Clinton
E-mail controversy still worries Democrats, and Republicans may not be sold on another Bush.
by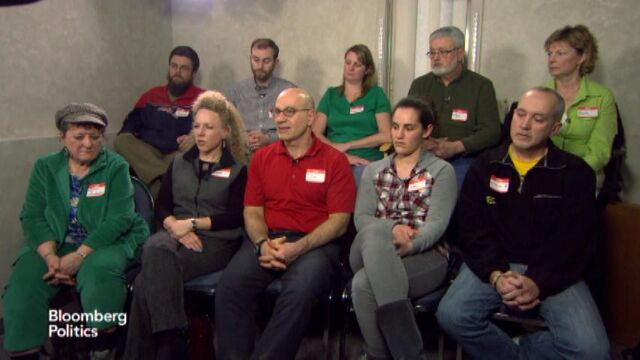 Hillary Clinton and Jeb Bush, the presumptive establishment frontrunners for the 2016 presidential nomination, may be facing real problems within their parties.
In Bloomberg Politics-Purple Strategies focus groups convened this week in New Hampshire, even likely Democratic primary voters who are ardent Clinton supporters said they are closely following and are turned off by her handling of a controversy over her use of private rather than government e-mail while she served as secretary of state. And several said she should turn over her private e-mail server to a neutral third party for review.
And some underpinnings of Bush's general election appeal—his family's legacy of political service, a perceived openness to liberalizing immigration policy and support of Common Core education standards—have led several likely Republican primary voters to conclude they can't support him, and that there's probably nothing Bush can do to change their minds. None said they'd back Bush if they were voting today.
Karen, 47, an interior designer said if Bush were the first in his family to run he might be elected. "After his father and his brother, I don't think he'll have a chance," she said. Daphne, 23, a student, said that "if he was, you know, the only choice, then I'd vote for him" but otherwise there was "nothing" he could do to win her vote. "I don't know," she said. "I don't like him. I'm not for him."
New Hampshire doesn't carry many Electoral College votes, but its first-in-the-nation presidential primary is a key measure of campaign strength. Video of the focus groups will debut Thursday on With All Due Respect, airing at 5 p.m. Eastern and Pacific time on Bloomberg Television. 
The two 90-minute sessions of 10 registered voters from each party, held Tuesday in Londonderry, N.H., aren't large enough to constitute a scientific sample, but they could reflect the early emotional contours of the race. Participants on the Democratic side contradicted claims by Clinton's team that voters aren't worrying about her e-mails. They indicated while they still intend to support Clinton, her handling of the matter has disappointed them and made her more vulnerable to lost support from others. They also said she should allow a third party to examine her private e-mail server so that the issue doesn't give Republicans ammunition going forward.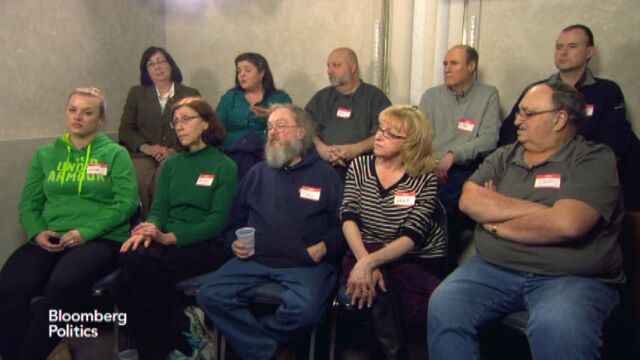 "She could have gone through and deleted anything she wanted," said Dianne, 50, a homemaker. (Participants agreed to be recorded and quoted by their first names only.)
"It seems just like a lack of judgment to do that, and to—you—be the one deciding whose, what e-mails you're going to delete or not," said Alice, 60, a public health administrator. "If anything, she should have released everything and a third party can decide what's relevant."
"You have to be aware of how things appear to the public," said Alethea, a 29-year-old financial planner. 
The Republican participants, meanwhile, reflected the intense skepticism felt in some party circles toward Bush, the former Florida governor who is a son and brother of U.S. presidents. That same skepticism and may embolden other Republicans jockeying in a field that could exceed a dozen candidates.
"I know enough to know I don't need to keep voting for a Bush over and over again or a Clinton over and over again," said Matthew, a 35-year-old with some college education. He said Bush represents "the Republicans we've been trying to get rid of for the last eight or 10 years."
Diana, a retiree, said while Bush sounded "pretty good" in a recent speech she heard, she may not be able to get past some of his ideological differences and a concern he isn't conservative enough. "Does he have more good than bad, or does he have more bad than good?"
The panels also offered some reasons for optimism for Carly Fiorina and other Republicans.
Daphne said Fiorina, the former Hewlett-Packard CEO, is "very relatable" because of her experiences as a cancer survivor, parent of an addict and role as a trailblazer for women and advocate for pay equity. "I despise Clinton," Daphne said, while with Fiorina, "her being a woman is definitely a plus for me."
Panelists also suggested Chris Christie, the New Jersey governor, might be more appreciated in New Hampshire than some other parts of the country because the state's voters can relate to his northeastern temperament, loud and outspoken.
Wisconsin Governor Scott Walker got kudos from the group for standing up to labor unions and surviving recall efforts. While some expressed concerns about his lack of national security experience, they weren't bothered by his lack of a college degree.
Bob, 55, a design engineer, said Kentucky Senator Rand Paul's record of working with Democrats on bipartisan efforts including prison reform or reducing drug sentences is "great." Martha, 57, a teacher, said she "almost didn't want to admit" Paul's magnetism at first while now she seeks out his remarks to "hear as much as I can." At the same time, she said she thinks he may be too extreme.
Overall, Martha said, "I'm not thrilled" with the Republican field. "Someone that seems like they're a frontrunner, I wish we had someone like that. It seems like the Democratic Party always has one." At the same time, she thinks Florida Senator Marco Rubio "could really bring some voters over" because of his youth and because he is Hispanic.
Likely Democratic presidential primary voters in the second focus group were overwhelmingly supportive of Clinton. Even though some said they'd like to see other Democrats run in the primaries to encourage healthy debate, none suggested any alternatives could beat Clinton.
Participants in both groups said overwhelmingly that they want the next U.S. president to be committed to and adept at reaching bipartisan compromise, and they were mostly critical of President Barack Obama's ability to fulfill his promises to do that.
But the groups split over what sort of candidate might be best for their parties. Republican participants said they favor the idea of a nominee who is a political outsider. Democrats suggested that Obama's experience convinced them the candidate best poised to effect change may be an insider who has the relationships and knowledge to make deals.
Democrats appeared to place a higher priority on electability at this early stage, while several of the Republicans said the primary contest was a time to vote on the basis of personal preferences.
"I want Hillary to win but I could live with Jeb Bush," said Dianne, a Democrat. "He's pretty moderate" on immigration and schools, which she described as "big issues" for Democrats. "I think as a consolation prize, I would take that above Mitt Romney."
Each focus group included men and women and covered a range of ages, income and educational levels as well as a mix of past primary vote choice and current preferred candidates. The first focus group was comprised of self-reported likely Republican presidential primary voters and the second of self-reported likely Democratic presidential primary voters. Respondents were told during the recruitment process they might appear on television.
Qualitative research results cannot be statistically analyzed or projected onto the broader population at large. As is customary, respondents were compensated for their participation.
For more video of the focus groups, tune in to Bloomberg Politics' With All Due Respect at 5 p.m. Eastern and Pacific.
Before it's here, it's on the Bloomberg Terminal.
LEARN MORE