Deficit, War Funds at Center of House Republican Budget Fight
Billy House and Erik Wasson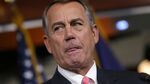 House Republican leaders are struggling to find a compromise between spending-cut advocates and defense hawks on how to increase U.S. war funding in their proposed fiscal 2016 budget.
The House Budget Committee approved the plan Thursday while leaving unresolved the demands by many lawmakers for fewer restrictions on defense spending. Minutes later, Speaker John Boehner said the plan will be amended next week on the House floor to boost defense.
"I cannot see a circumstance where the Republican Congress would pass a defense budget that's lower" than President Barack Obama's request, House Armed Services Committee Chairman Mac Thornberry, a Texas Republican, told Bloomberg reporters and editors Thursday. He said there was "pretty broad support" for a larger defense budget.
Boehner sought to minimize the chance of a last-minute revolt next week among rank-and-file members who want to rein in federal spending.
"We've walked everybody through it and think we are in a good place," said Boehner of Ohio during his weekly news conference.
He is attempting to persuade enough Republicans to back the overall budget resolution. They aren't likely to get much, if any, Democratic support, meaning they would need at least 217 of the chamber's 245 Republicans to vote for the plan, if all 433 current House members cast votes.
Democratic Opposition
"I am confident that Democrats will oppose the budget," Representative Chris Van Hollen of Maryland, the top Democrat on the Budget Committee, said at a news conference.
Seventy Republicans have threatened to vote against the budget plan if defense spending isn't high enough.
The initial proposal by Price offered $94 billion in war funding located in a Overseas Contingency Operations, which funds war operations. Of that, $19.5 billion would be offset with unspecified cuts elsewhere in the budget.
Midway through a 13-hour Budget Committee meeting Wednesday, House leaders altered the plan to try to get a deal. They proposed $96 billion in war funding, with no offsetting cuts elsewhere. Not enough committee members supported that, and the meeting broke up late in the evening.
The use of the contingency fund is designed to get around defense spending caps set by a 2011 budget-cutting law. The contingency fund is counted as emergency spending, not part of the military budget.
Reserve Fund
Some Republicans, including members of the Armed Services Committee, objected Wednesday to having $19.5 billion in war funding offset by unspecified cuts elsewhere through a separate deficit-neutral "reserve fund."
Representative Trent Franks of Arizona, an Armed Services member, was among those seeking assurances that the $19.5 billion would be "real" and not depend on unspecified cuts elsewhere.
Boehner spokesman Kevin Smith said Thursday the House rule for debate on the budget would remove the requirement to find $19.5 billion in offsetting spending cuts. Franks said Thursday he was satisfied with the proposal to boost defense spending.
"At least now we have declared where we stand on national security," said the Arizona lawmaker.
Other Republicans, including Tea Party-aligned members who back a smaller government, said they objected to the entire off-budget approach.
'Really Struggling'
"I'm really struggling with the $90 billion" in the contingency fund, said Representative Mick Mulvaney. The South Carolina Republican is a co-founder of a group of House fiscal conservatives who call themselves the Freedom Caucus.
"Off-budget is the wrong way to spend taxpayer money," Mulvaney said. "You are breaking the law -- not the letter but the spirit," he said, by not considering such spending to be an increase because it isn't subject to budget caps.
The Senate on Thursday moved to adopt the House leadership approach of adding $96 billion in war funding. Budget Chairman Mike Enzi on Wednesday took a much different approach to defense, proposing $58 billion in war funds for 2016 and maintaining strict defense spending caps in later years.
The Senate Budget Committee adopted a proposal by Senator Lindsey Graham, a South Carolina Republican, to increase the war funds by $38 billion without offsetting the amount elsewhere.
Enzi said the Senate will begin debate on the budget Monday. Votes are set to begin three days later.
Before it's here, it's on the Bloomberg Terminal.
LEARN MORE